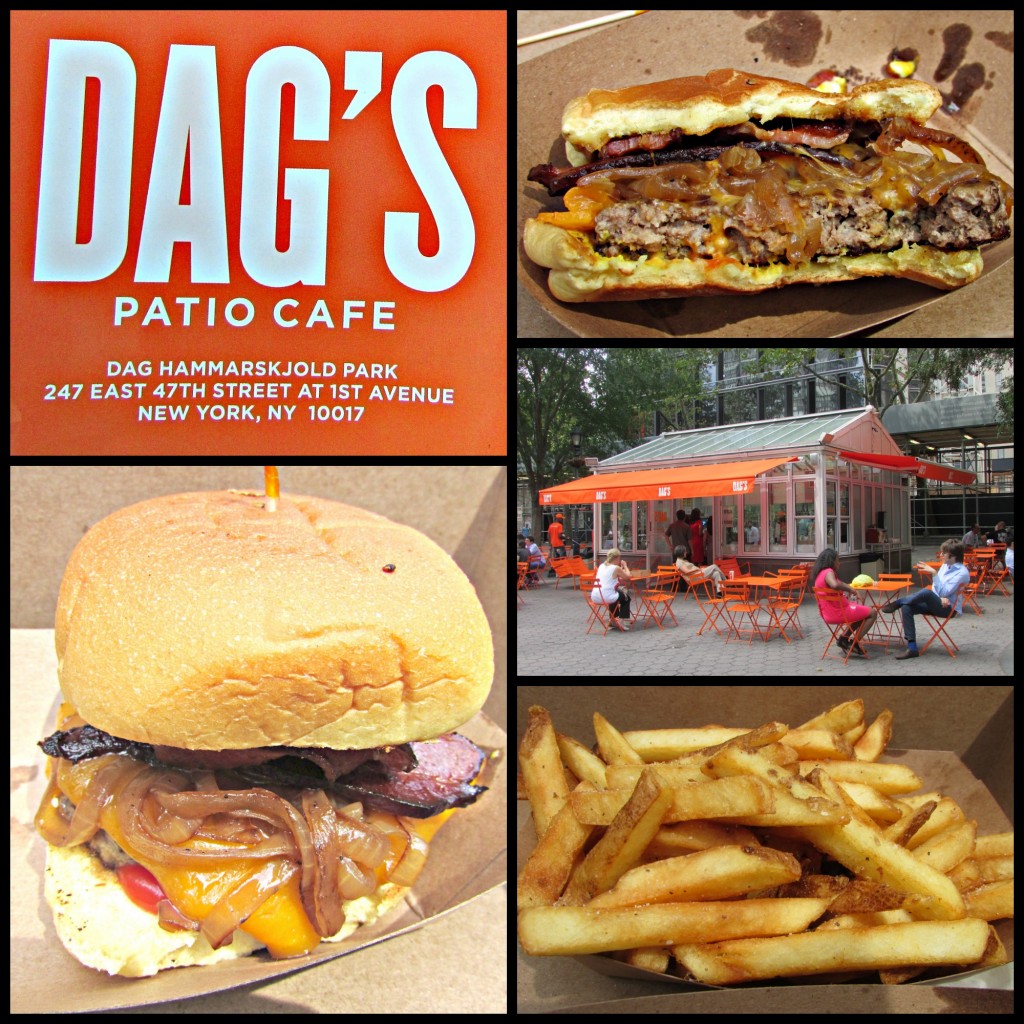 The Experience: The neighborhood of Turtle Bay is something of a black hole when it comes to burgers. Social Eatz closed, and Hillstone is really just the chain Houston's in disguise. So when I heard that the glass hut occupying Dag Hammarskjold Plaza (formerly the New York Milkshake Company) had been filled with a burger joint, I wasted no time in getting my appetite to the United Nations-adjacent park.
Dag's Patio Cafe is located on the east side of the plaza. All of the seating is outdoors. The cashiers and cooks are all friendly, pointing me toward the condiment station when I couldn't find it. I ordered the Applewood Cheddar, because of my known weakness for bacon and cheese. Though I was hungry, I opted against the double patty because I had a plane ride to catch and wanted to be assured that I would not be uncomfortably full on my ride. I took a seat outside, and after hearing my order number shouted by a food runner, I began my meal.
Burger Ordered: The Applewood Cheddar Burger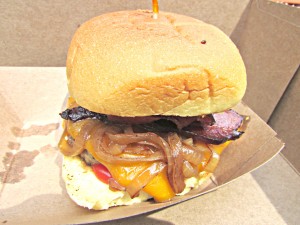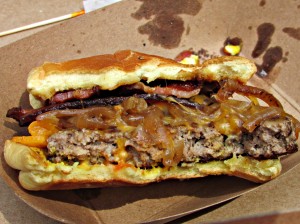 The Taste
: The Applewood Cheddar comes with bacon, cheddar cheese, grilled onions, and Dag's Patio's special sauce. Everything from the bun to the bacon was very tasty. The patty was reasonably seasoned, with flavor registering on my palate despite the fact that I was getting over a cold. The only real drawback to this burger was the so-called special sauce. This mixture of ketchup, mustard, and mayo could hardly be called special. It's starting to feel like every burger joint boasts their own special sauce, most of which are far from special. I could have done without it, as the cheese and grilled onions added plenty of moisture on their own.
The Verdict: Dag's Patio Cafe serves up a competent burger, much appreciated in Turtle Bay. Though I wouldn't want this burger to be my ambassador to the world, it's definitely acceptable for a quick lunch between meetings.
Dag's Patio Cafe is located at 347 East 47th Street in Dag Hammarskjold Plaza.