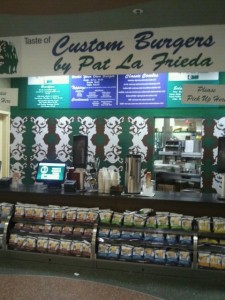 By Pat La Frieda
Burgers Ordered: Brad – Southern Style Burger
The Experience: Flying is a huge pain, and nobody hates to fly more than Brad. But this half of the core Burgermeister duo was between apartments and jobs at the end of August, and as such our homeless hero was reduced to going back to his hometown of Detroit for the week to stay with his parents. There was a silver lining however…
Detroit is home to a very large Delta hub, making that airline the natural choice for a New York to Michigan flight. Burger connoisseurs know that one of the most notorious burgers in Queens, Custom Burger, makes its home in the Delta terminal at LaGuardia Airport. Though Matt would surely be upset that Brad was Burgermeistering without him, Brad knew he needed a distraction to make it through the grueling experience that is flying. This burger would have to live up to a lot, as it had to keep Brad sane and be worth the rift it might cause between the Burgermeisters.
LaGuardia Airport was PACKED. Brad had to wait in line after line to check his bag and make it through security. Because of his homelessness, Brad's checked suitcase was overweight and cost him a fortune to get on the plane. He was in no mood after this to pay for a meal, but luckily Custom Burger is reasonable by airport food standards. The counter is the first thing you see after you get through security, like an oasis in the desert.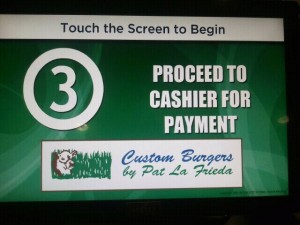 Brad approached Custom Burger and was met by a machine rather than a human. A touch screen asks what kind of pre-arranged burger you'd like, or if you'd like to build your own. Brad began ordering at around 9:45 a.m. and although Custom Burger serves breakfast, the Burgermeister decided that he'd go heavy on his way home.
Presentation: The Southern Style Burger is topped with cheddar cheese, BBQ sauce and frickles. You read that right, not pickles but frickles. After Brad saw that there was no way he could order anything else. Did he want BBQ sauce on his breakfast meal? No, he did not. But the frickles would not be denied.
It didn't take long for the burger to come up, but it was long enough for the tired Burgermeister to spill a small cup of mayonnaise all over the counter. Brad was never asked how he wanted his burger cooked, but he trusted that the well-known burger spot would know how to handle a short-order patty.
After pushing though an ocean of travelers, Brad slouched in his chair and took a look at the burger. It was modest in size. The cheese was only slightly melted and the sizable bun hid nearly the entire meal. Still, it smelled amazing.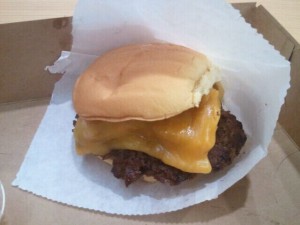 Taste: Brad took his first bite and tasted a juicy patty, cooked medium (the perfect condition for a burger cooked without consulting the customer). There's no surprise that the meat was flavorful, as Pat La Frieda patties seemingly always make good on their reputation for deliciousness.
However, Brad tasted no BBQ sauce and frickles that only barely made good on their name.  It would be better to describe the pickles as frickles with a handful of bread crumbs tossed over them. The pickles themselves were quite good, but none of the batter actually stuck to them, and Brad wondered if they were ever actually fried on their own.
It took several bites for Brad to find the BBQ sauce, and as such he began dipping the burger into mayonnaise. That turned out to be a blessing in disguise, because when Brad got to the second half of his burger he found all the BBQ sauce that he thought was missing. This isn't an ideal way to make a burger, with a glob of the promised sauce only on part of the patty, but in this case it offered Brad a chance to experience two different tastes that he loves on two separate halves of the burger.
The Verdict: This burger was the perfect size for a pre-flight meal. It left Brad feeling satisfied without making him feel bloated or otherwise uncomfortable before being trapped in a small seat on a flying tin can. It's safe to say that you burger lovers probably shouldn't eat one for breakfast the way he did, but if you have a later flight leaving out of the Delta terminal of LaGuardia there's no reason not to grab this Pat La Frieda burger.
As an aside, Brad's flight went smoothly, but then this happened on the plane and FREAKED HIM OUT!