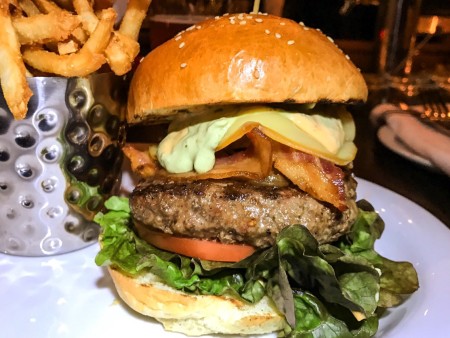 Given New York City's absurd real estate prices and the fickle nature of the restaurant industry, it can be hard to find a good restaurant that's been around for a long time. I measure time in New York based on how long I've been here (I arrived in 2008). That means that Croton Reservoir Tavern opened in the year 5 BBIN (5 years before Before Brad in New York). To be honest, most of the time when I try burgers at restaurants that opened BBIN, I'm disappointed. Not all of the time, but a lot of these restaurants have been overtaken by a wave of new spots in the city. Croton Reservoir Tavern bucks that trend.
Burger Ordered: CRT Deluxe Burger
The Taste: This Certified Angus Beef burger is topped with applewood smoked bacon, smoked gouda, caramelized onions, lettuce, tomato, and chipotle aioli on a brioche bun. The beef is remarkably savory. The chipotle aioli compliments the smoked gouda incredibly well in flavor, and both are balanced nicely in texture by the crispy, crunchy bacon. I was really taken by the steakhouse flavor of this burger. And at its size (and alongside its tasty fries) its sure to leave you full and satisfied.
The Verdict: There aren't a ton of great restaurants near Times Square, but Croton Reservoir Tavern is an excellent option if you're in the neighborhood.
Croton Reservoir Tavern is located at 108 West 40th Street in Manhattan, New York.
Sign up for Burger Weekly email updates!