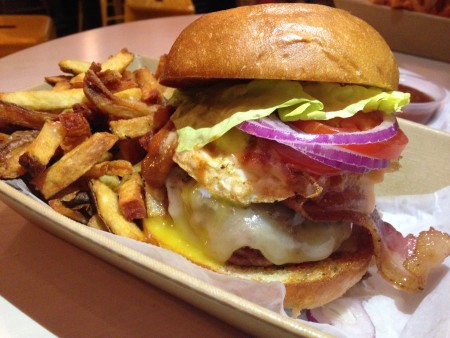 Before moving to New Orleans, I had never consumed pork or shellfish due to my relatively observant Jewish upbringing. But the longer I have lived here, the more I felt the need to engross myself in all aspects of the culture, and crawfish is a major part of that. I figured if I was breaking one rule, why not break the other, if not as a permanent dietary shift then at least to say I'd tried it once. What better way to try pig than on this Burgermeister's first bacon cheeseburger?
I'd heard rave reviews about the burgers at Cowbell, a favorite among Tulane students on historic Oak Street in New Orleans. I went with their "Locally World Famous Cowbell Burger" (the menu is quite humorous), their natural, grass-fed beef burger with toasted potato roll, lettuce, tomato & onion, hand cut fries & their signature ketchup & agogo sauce, a mayo-based sauce with sambal chilis, roasted garlic and honey. Despite having recently learned that ketchup on burgers is blasphemous, I still included it on mine, as it was listed on the menu as signature to the location. I then added applewood smoked bacon and a fried egg, which come together as an add-on.

Burger Ordered: The Locally World Famous Cowbell Burger
The Taste: The burger was overwhelming. The taste was great, and it was a perfect medium rare, but the bacon and egg just made it THAT much more filling. I liked the salty, smokey taste of the bacon, but would not say that it necessarily stood out. Perhaps my expectations were unreasonable, as I have many bacon enthusiast friends who assured me that it would change my life, and that eating a cheeseburger without bacon is not REALLY eating a cheeseburger (I disagree). My dining partner mentioned that typically bacon stands out as being crispy, contrasting the texture of the burger, whereas this bacon was sort of draped over the very spherical patty and thus absorbed its grease and its texture. I heard his point, but it was definitely still good. The shape of the patty made it easily fall apart, which was slightly inconvenient, but the rich taste of the burger was definitely satisfying.
The Verdict: I'm not sure I'll continue with the bacon cheeseburger simply because it was SO much meat for me, but never say never! In the meantime, I can assure you that you will not be disappointed with the burger at Cowbell. It's a great spot in a great location with reasonable prices and a fun, laid back NOLA vibe.
Cowbell is located at 8801 Oak Street in New Orleans, Louisiana.
Sign up for Burger Weekly email updates!