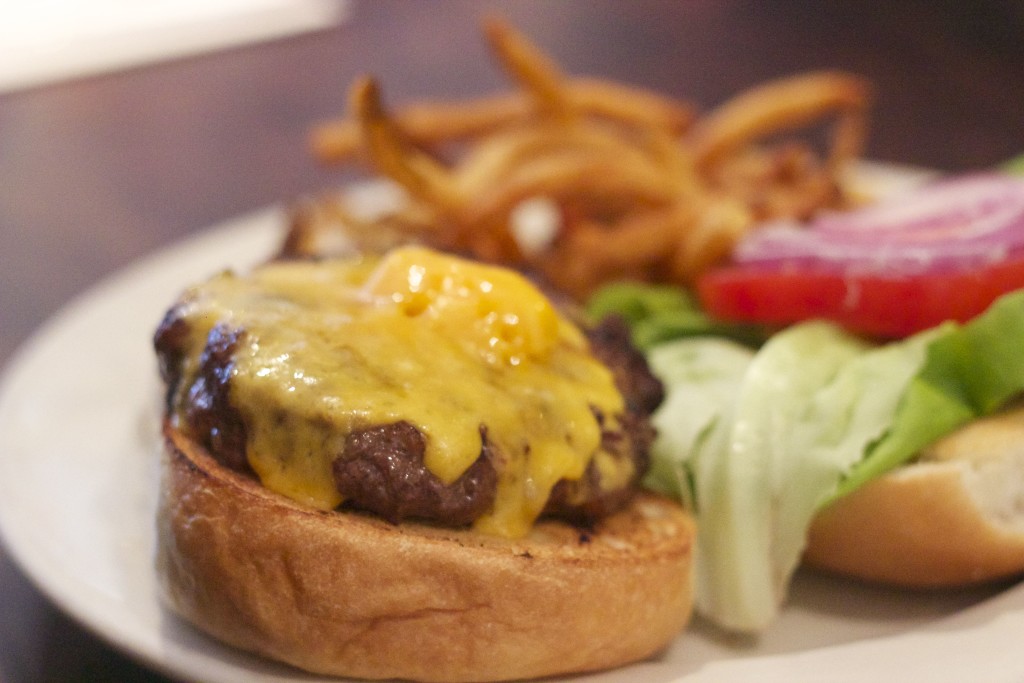 The Experience: Boasting Texas Monthly's #2 greatest burger in Texas and a spot on the Food Network's "Diners, Drive-Ins and Dives", the diminutive Counter Cafe serves its patrons gourmet diner-style food with a menu ranging from biscuits and gravy to grilled Texas quail. It can be a tight squeeze sometimes when eating here, but the discomfort is quickly forgotten when the food arrives regardless of whether you order their renowned burger or one of their other delicious offerings.
I feel that their menu describes it best – all-natural beef patty topped with cheddar, organic bibb lettuce, vine-ripened tomato & red onion on a white bun. Sound incredible? It sure was. And naturally I had mine served with a side of hand cut Counter fries.
Burger Ordered: The Counter Burger
The Taste: The standard doneness of the beef patties at Counter Cafe is medium rare, and they do it perfectly, every time. But, of course, they're willing to accommodate those who might have a different preference. They cook their burgers on a grill and finish them under a broiler to get the shredded cheese nice and melty. This time, as on my past visits, the meat was seasoned and cooked spot on. Not to mention, it was both tender and juicy. Their emphasis on quality ingredients was evident in the burger accessories – the bibb lettuce was an energetic green and the tomato was a vibrant red. Combine all these things between a wonderfully toasted sweet sourdough bun and you have a burger worthy of recognition.
Seeing the two chefs maneuver their way around the confined space that they call a kitchen was almost like watching an entertaining show. But even in the midst of all that they were doing, they still took some time out to chat with the customers.
The Experience: It's clear that these two skilled chefs enjoy what they're doing, and for my sake and all of the others who have indulged in the Counter Burger, hopefully they'll be doing it for years to come. I really wanted to stick around a little while longer and join in on the basketball conversation that they were having, but the wife had some errands to run. And besides, I couldn't deprive the waiting customers of a seat at the Counter.
Counter Cafe is located at 626 North Lamar in Austin Texas.
You can read more of Tim's burger adventures at MJ and Hungryman.