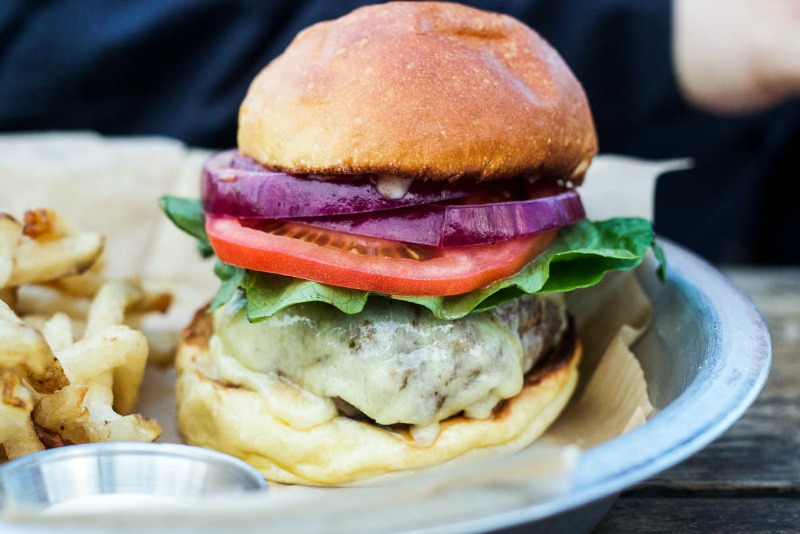 The Experience: Man, life's been a little, rough. But I am happy to say that I've been keeping up with my burger consumption. Well, that is after I got over a cold that had me dragging for almost 2 weeks. I have some catching up to do so let's get right down to it, shall we? With reason to celebrate, my wife and I headed out to Contigo.
Located in a revitalized portion of East Austin, Contigo is serving small plates, craft beers, and one delicious burger. Patrons return again and again for good food made from the freshest ingredients available. The relaxed, comfortable atmosphere doesn't hurt either.
Burger Ordered: Burger & Fries
The Taste: A thick patty of grass-fed beef, fresh veggies and housemade challah bun make up the burger at Contigo. It also comes served with a side of hand-cut fries.
That first bite was one to remember. As my teeth pierced the skillfully cooked patty, it released a burst of savory juice that filled my mouth with meaty goodness. The thick, bold slices of onion and tomato didn't overwhelm, but rounded out the burger nicely. Ultimately, I was forced to finish the burger with fork and knife as the pillowy bun succumbed to the overflow of burger liquids. Although small in appearance, this burger was spot-on satisfying.
The Verdict: The Contigo Burger is yet another example proving that a burger doesn't always need a lot of bells and whistles to be good. It's easy to see that the folks at Contigo care about what they're putting into their burger and the rest of their menu for that matter.
Contigo is located at 2027 Anchor Lane in Austin, Texas.
You can read more of Tim's burger adventures at MJ and Hungryman.