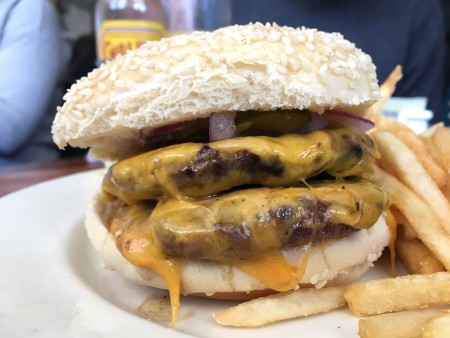 When the Westville team opened Concord Hill in Williamsburg a little while back in the Sel de Mer space on Graham Avenue, I simultaneously lamented the loss of the seafood spot while being excited that Brooklyn would be getting its own version of Westville. I lived nearby in Greenpoint at the time, you see. But when it opened, it was always jam packed. I moved away from the neighborhood last year, but I found myself nearby recently and when I saw that the wait was reasonable I plopped myself down there to try their burger.  
Burger Ordered: Double Cheeseburger
The Taste: Topped with cheddar, pickles, and remoulade on a Martin's sesame seed bun and served with fries, this double pattied situation is a steal at $13. Northwest Broklyn has no shortage of good burgers, but much like Manhattan some restaurants in the area are charging way too much for them. The cheddar cheese and remoulade made for a delightful brunch that was filling but didn't make me feel disgusting. And the fries were crispy and delicious. I could have eaten them ad infinitum if a never-ending supply were available.
The Verdict: Like Westville, Concord Hill is delightful and like Westville, their burger is a very good bet.
Concord Hill is located at 374 Graham Avenue in Brooklyn, New York.
Sign up for Burger Weekly email updates!