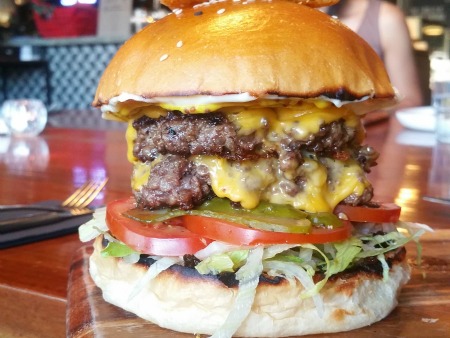 The Experience: As Friday night rolled around, I did not want to eat at a burger joint but I was still in need of that burger fix. So I went to to Coco Lounge. Coco Lounge is a classy type venue located in the thriving food scene of The Glen. With a menu to suit all needs and very friendly staff, I felt nice and comfortable to settle in for a feed.
Burger Ordered: Coco's Cheese Burger
The Taste: The burger looked fresh on arrival, accompanied by the thickest chips I have had. They were amazing. This burger had some banging flavors. The beef was cooked nicely, packed not too tight, and melted away in my mouth with each bite. The jam was a masssive hit for me. It blew my mind, adding a fresh kick that bounced of the kewpie mayo flavor. The lettuce and tomato may of been too fresh, as the juices did weaken the delicious bun towards the end.
The Verdict: Coco lounge brings a solid burger with flavors that left me wanting more. After I ate, I was told that bacon is a secret item that could of been added. It's a shame i didn't know before, so I'll have to return.
Coco Lounge is located at 93 Kingsway in Glen Waverley, Victoria, Australia.
Check out more Australian burger adventures at Damoforce.
Sign up for Burger Weekly email updates!