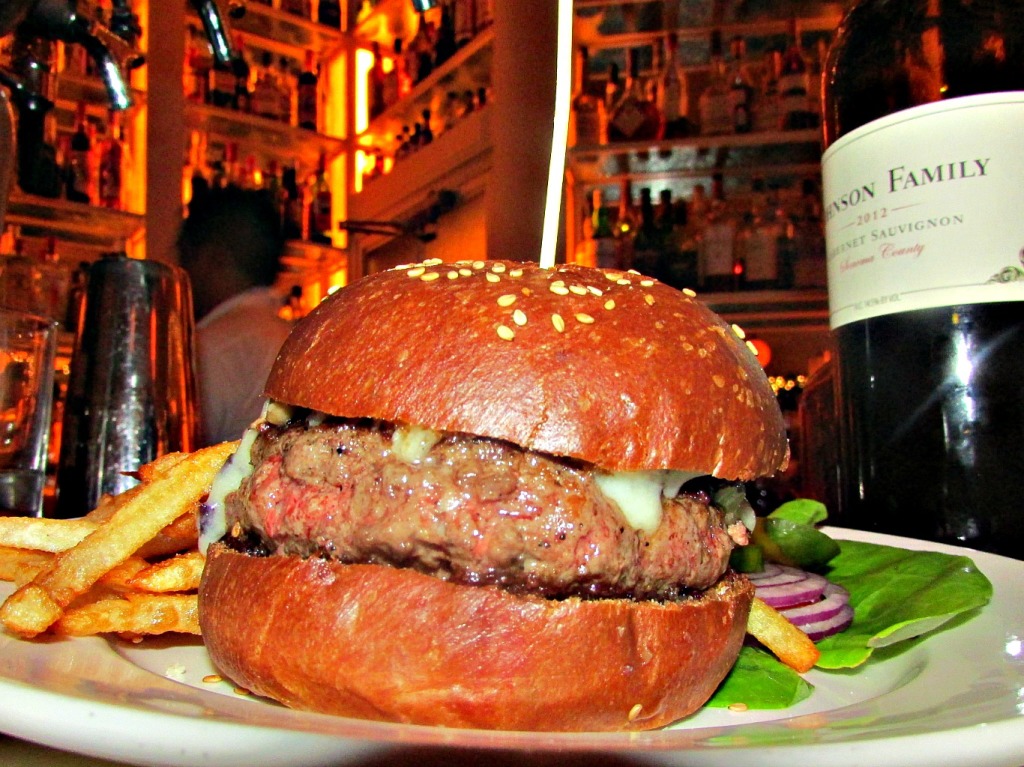 The Experience: I have been known to overdo it. Last May, in preparation for National Hamburger Month, I sampled nine hamburgers in one day. At various Burger Bashes, Burger Battles, and Burger crawls, I've been known to eat more burgers than any one man should eat in a sitting. It is for that reason that I did not think that eating the burger at Bavaria Bier Haus before eating the burger at Cherche Midi would be a big deal for me. What's two hamburgers? What I did not count on is that I would do nothing short of feast at both locations, and that the very last food item of the night would be Cherche Midi's burger.
The burger at Cherche Midi was rumored to be incredible. I had heard this from folks whose burger palates I trust. As such, I figured it would make a wonderful end to my gluttonous evening. It turned out this would be an uphill battle, as the night had already seen me eat spatzel, the Bavaria Bier Haus burger, a handful of french fries, frogs legs, mussels, steak tartar, lobster ravioli, a kale salad, and possibly a few other things that I'm forgetting because I'd also had a decent amount to drink. So how did the burger fare?
Burger Ordered: The Prime Rib Burger
The Taste: The Prime Rib Burger is topped with bacon marmalade, roasted mushrooms, and aged gruyère cheese, and comes with fries (though I'd already had fries with the mussels). The meat is exquisite. My party sat at the bar and were guided through our meal by Francois, who used to work at Minetta Tavern. Francois insisted that Cherche Midi's burger was better than Minetta's. I don't know if I would go that far, but the way that the meat seemed to melt in my mouth certainly made me think that the nearly equal in price burger was giving the Black Label Burger a run for its money. Cherche Midi takes its bun game very seriously, as I noticed when I passed by the kitchen that great attention was being paid to the buns. I appreciate that to no end.
The Verdict: I will definitely have to return to Cherche Midi and focus on the hamburger. Though I appreciate the feast that I had, I think the burger deserves more attention, especially since it was a lot better than much of the rest of the food I ate there.
Cherche Midi is located at 282 Bowery in Manhattan, New York.