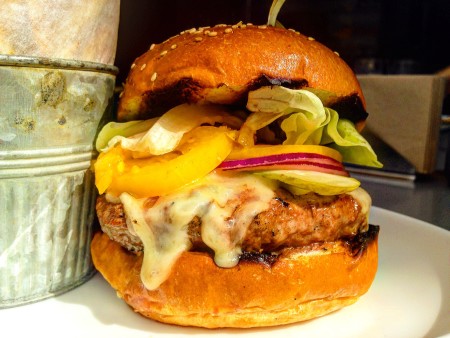 Circa Brewing Co. was a pleasant surprise. It is a diamond in the Downtown Brooklyn rough, hitting high marks in the decor, vibe, and food departments. I knew nothing about this place before I checked it out on the invitation of my buddy Pat (check out his fantastic Instagram account). We were there ostensibly to eat a bunch of pizzas, but when a cheeseburger was spotted on the menu, you know I couldn't resist it. 
Burgers Ordered: Cheeseburger
The Taste: The burger came topped with fontina cheese, grilled red onion, tomato, shredded iceberg lettuce, and circa sauce. I'm not a big fan of iceberg lettuce on a burger, and I'll say right out of the gate that it was the only drawback on an otherwise tasty situation. I find that, true to it's name, iceberg (and certain other veggies) can cool down the temperature of a burger, which is no fun for anyone. That said, the beef was delicious and the fontina was a big win as well. Like the tasty pizzas, this burger made for a great pairing with Circa's beers.
The Verdict: The menu is chock full of competent dishes, most of which are great for sharing. This is a top spot in Downtown Brooklyn.
Circa Brewing Co. is located at 141 Lawrence Street in Brooklyn, New York.
Sign up for Burger Weekly email updates!