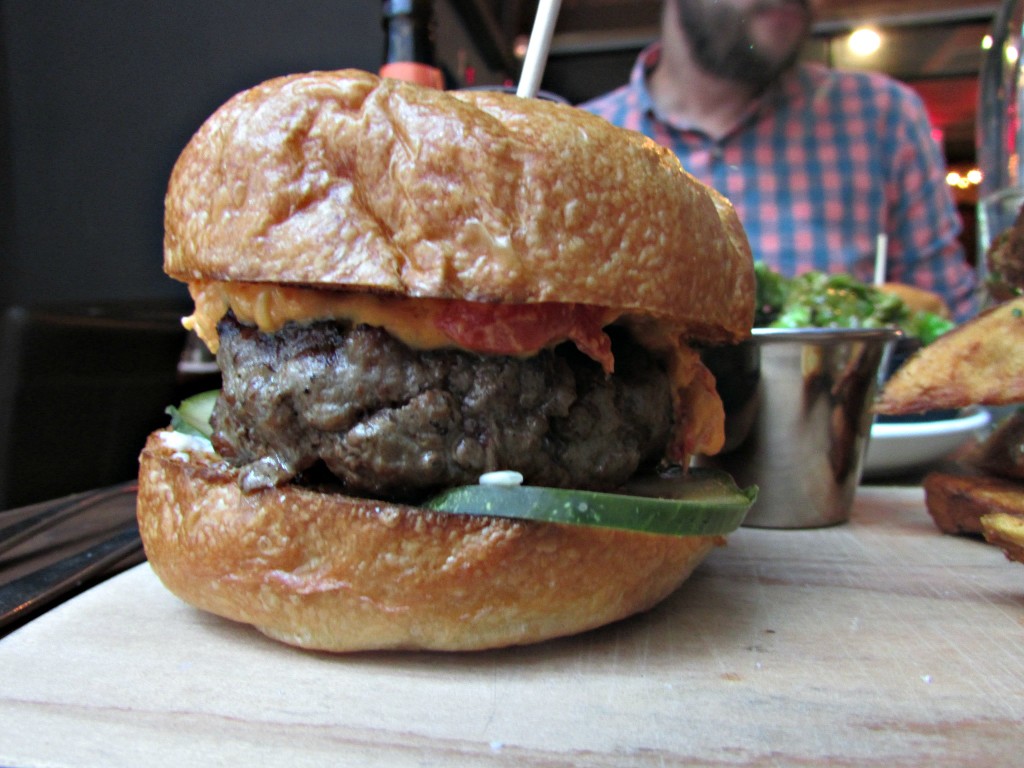 The Experience: I was walking through the Meatpacking District on the same day that the Kentucky Derby was happening, and stopped in front of the Chester on 9th Avenue to watch the race through the window. A short time later I was tipped off to the fact that they have a good burger, and told that there was a location of the restaurant in Murray Hill, closer to my office. It doesn't take much more than the words, "good burger," and "close to your office," to get me excited about a hamburger. And since the Belmont Stakes had just ended with American Pharaoh taking the Triple Crown, I figured that I was fated to have this burger. And that's about the extent to which you'll hear me talk about horse racing on this blog.
Burger Ordered: The Burger
The Taste: The Chester's burger is a ground hanger steak patty topped with pimento cheese, miso-Russian dressing, and pickles on a house-made bun. I am starting to think that if you aren't going to serve your burger on a potato roll, you're best off going with bread that you bake in-house. This bun was soft, fresh, and contained the perfect flavor and texture for this burger. The centerpiece of the burger was the combination of flavors coming from the miso-Russian dressing, beef, and pickles, which took me to a higher plane of existence. The steak fries and shishito peppers were also pretty good, though if I had it to do over again I'd swap them both out for a second burger.
The Verdict: The burger at the Chester is a winner. I hope it gets its due, and I love that burgers with pimento cheese are starting to creep into the New York City burger scene.
The Chester is located at 45 East 33rd Street in Manhattan, New York.
Sign up for Burger Weekly email updates!