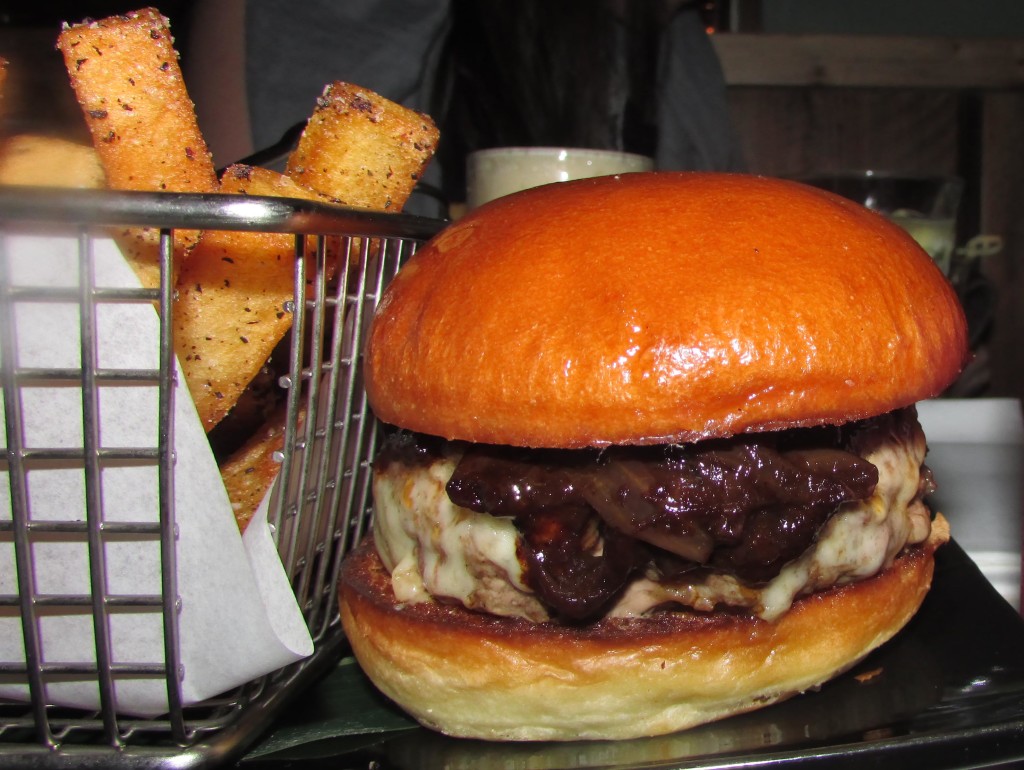 The Experience: North Brooklyn has no shortage of great burgers. From homages to roadside burger joints to odes to Australian hamburgers, there is a great variety of high quality meat sandwiches. However, since I make North Brooklyn my home, I am always excited when I hear about a great new burger in the area. I noticed on my Burgerator that Cherry Izakaya had a burger rated at 9.1 by the apps creator. With praise like that, how could I not give it a try?
The sister restaurant to Cherry in Manhattan, a fancier establishment that does not serve a burger, Cherry Izakaya is a Brooklyn take on a Japanese tavern. With a nice cocktail menu and a beer list that features Kagua Rouge, one of my favorites, I was into this joint from the word go. I started my meal with spicy tuna on crunchy rice,, and then moved on to the Wililamsburger.
Burger Ordered: The Williamsburger
The Taste: Chef John Keller's Williamsburger is a house blend of dry aged and grass-fed beef patty from up in the Catskills, topped with caramelized onions, demi-glazc, and Fontina cheese on a brioche bun from Northside Bakery across the street. It comes with thick cut fries to dip in yuzu aioli and sriracha ketchup. Though described as a bar burger, the dry aged funk elevates it significantly. The bun is remarkably sweet, balancing out the savory onions. I ate this burger entirely too fast, and could have actually gone for another half a burger if given the option.
The Verdict: It took a year for Cherry Izakaya to put a burger on their menu, and the wait was really worth it. For Manhattanites, it is only a couple blocks away from the Bedford L station, so there's no excuse to miss out on a weeknight dinner here. Their new brunch menu looks great too, with a different burger to boot, but that's a story for a different day.
Cherry Izakaya is located at 138 North 8th Street in Brooklyn, New York.