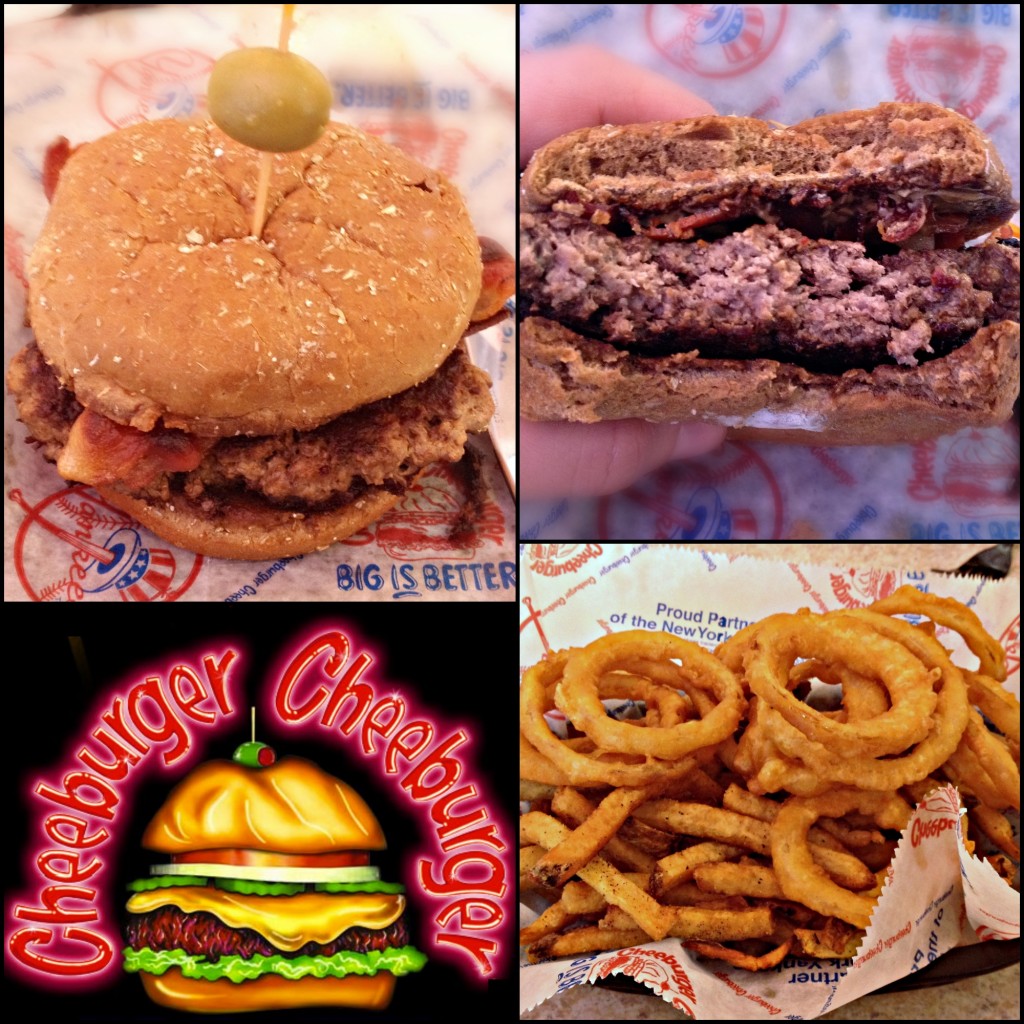 The Experience: Not knowing too much about Cheeburger Cheeburger, I was a little surprised when entering the establishment. I thought it was going to be along the lines of a Five Guys or a Smashburger, when in reality it more resembled a Johnny Rockets. The décor reminded me of several other faux '50s era establishments with the expected tropes of that genre. You could choose to order at the counter and get it to go or you could have sit down waiter service. I opted to dine in and was seated by a very friendly waitress.
Their menu boasts a possible 8,721,000 burger combinations, including five different size options for your patty, two bun options, and a slew of cheese and topping options. The cooking options are limited to medium, medium well, and well done. No medium rare! Side options include fries, onion rings, sweet potato fries, or the best of both basket which is half fries and half onion rings. They offer several dipping sauce options as well. They also provide a ton of beverage options including many different shakes.
Burger Ordered: The Serious Burger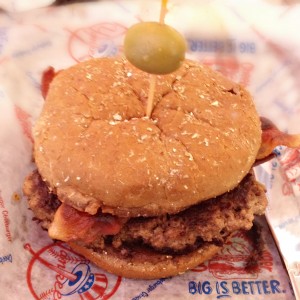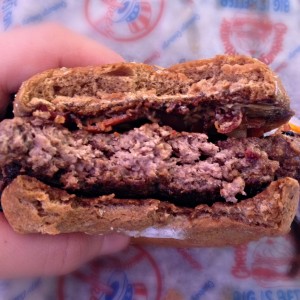 The Taste
: I have had a peanut butter and bacon burger once before, at the delightful
Yo Mama's Grill
 in New Orleans, and thus was overjoyed when I saw these two toppings as an option. However, my joy was tempered when I learned that I could not get my burger medium rare. As I expected, my burger was not pink in the slightest inside and was frankly a bit dry. The bacon was crisp and flavorful but the amount of peanut butter on the burger was meager. I didn't want a ton on there, but I certainly expected more than the very light layer that was spread on my burger. Harkening back to my NOLA experience, the best way to do this burger is by using real bacon bits and coating the peanut butter with them.
I ordered the best of both basket and found the fries very tasty but the onion rings lacking in flavor. I really enjoyed their zesty horseradish sauce. I also very much enjoyed my strawberry shake.
The Verdict: Cheeburger Cheeburger is good for what it is, a chain burger restaurant with a lot of fun topping options. I wouldn't rule out a return visit but would certainly get a burger with some sauce or ketchup to cut the dryness of a medium cooked burger. I would also dress it up with cheese and more toppings as that seems to be the area where this joint shines.
Cheeburger Cheeburger is located at 46 Great Neck Road Great Neck, New York.