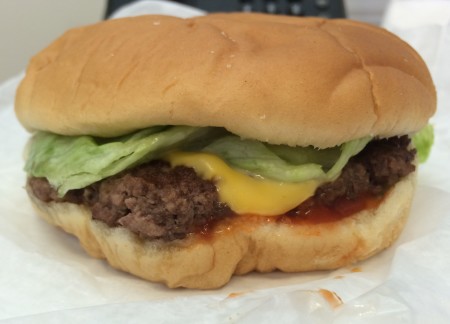 Summer is an exciting time in Charlevoix, as the tourists all come in, the shops reopen on a daily basis, and the Charlevoix Dairy Grille starts hopping with customers looking for burgers, fries, and ice cream from 11am-9pm every day. This is a classic summer establishment, and since they're serving up burgers I owe it to my readers to give a full report.
Burger Ordered: ¼ lb. Cheeseburger
The Taste: Dairy Grille boasts of fresh ground beef every day, and that is evident in the taste right away. I just kept it simple – burger, American cheese, ketchup, lettuce, and bun. They make a large amount of food in a short amount of time, and they definitely have a system down that ensures quality. I've had a handful of burgers here over the years and none of them have strayed from the quality of the first. It's not a life-changing burger, but in the summertime it's a great option. The fries that come with are pretty standard but they certainly do the trick.
The Verdict: Charlevoix Dairy Grille is a summer institution in the small town of Charlevoix, and there's good reason for that. The burgers are good, and the ice cream options for dessert are plentiful. Plus it's a great place to take the kids.
Charlevoix Dairy Grille is located at 1111 Bridge Street in Charlevoix, Michigan
Sign up for Burger Weekly email updates!