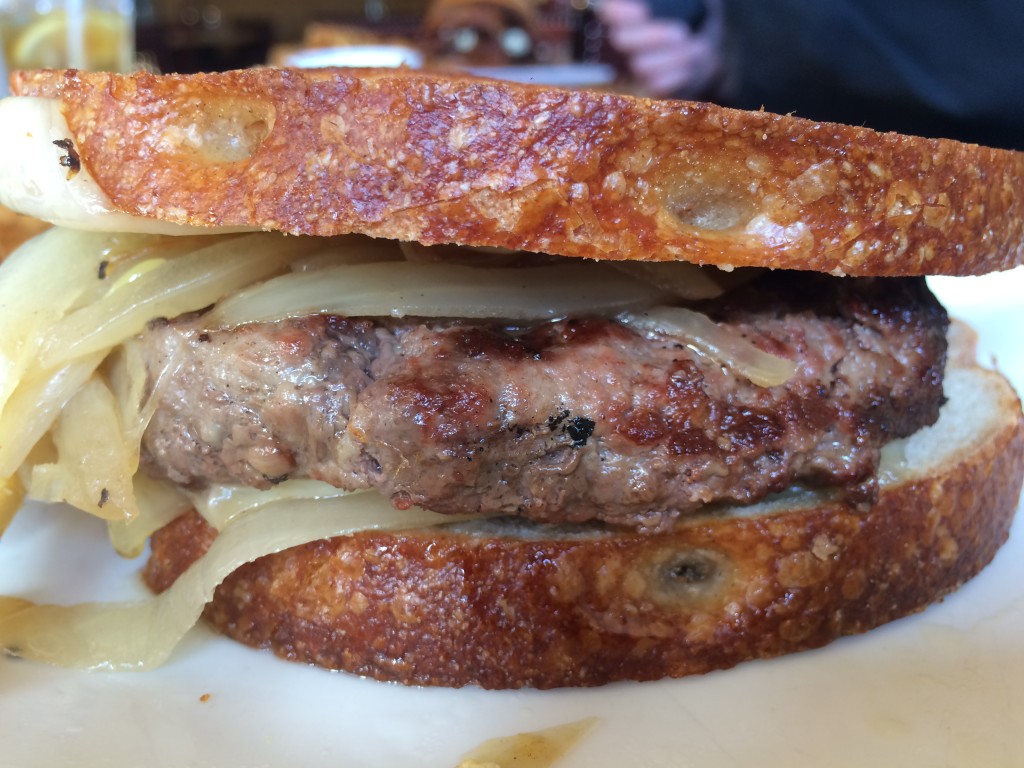 The Experience: After an educational day visiting the Schweid & Sons processing facility, a group of fellow burger fanatics and I visited the Candlewyck Diner, not far from MetLife Stadium, to eat the dish we'd seen making its uncooked way down an assembly line. Candlewyck Diner might be the epitome of the famous Jersey diner. It has all of the diner tropes; a giant menu, plush booths, a counter for desserts, etc. But it's also quite dressed up, with a few massive booths for large parties and a generally higher-end decor throughout. The burger menu was massive. Everyone in my group ordered something different, but I was drawn to a good old fashioned patty melt.
Burger Ordered: The Patty Melt
The Taste: I love a patty melt mostly because of the free reign it gives a chef to dump butter on a burger. The buttered and toasted rye bread that the eponymous patty rested on was exactly what I'd hoped for. The patty wasn't seasoned quite as much as I would have hoped, and the onions didn't add the flavor that I expected, but I was still compelled to finish every bite of the burger. The more I ate it, the greasier my fingers became thanks to the buttery bread, and this left me feeling quite satisfied by the end. It didn't hurt that the disco fries that we got for the table were delicious.
The Verdict: I'm told that the burgers were off that day, and that typically they are more exciting than what I experienced. Candlewyck isn't a bank-breaker, so it's worth giving it a try, and in my case I'd give it another try if I'm ever in the area again.
Candlewyck Diner is located at 179 Paterson Avenue in East Rutherford, New Jersey.
Sign up for Burger Weekly email updates!