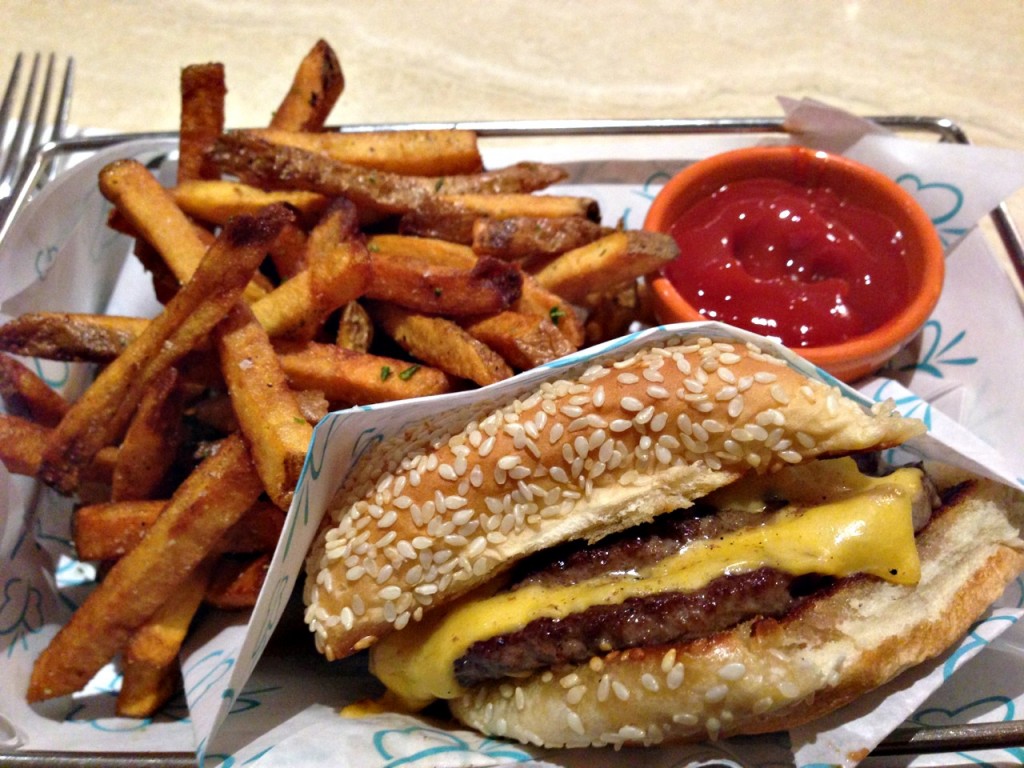 The Experience: Nestled on West Broadway in TriBeCa, The Butterfly is a stylish, retro bar and "Supper Club" that brings fun, 50's style food to a pretty expensive, uptight area of NYC. Eater recently did an article on 14 restaurants in NYC that used dry-aged prime meat in their burgers, and The Butterfly was both on that list and a few blocks from my office (Editor's note: this list also influenced the Burger Adventure at Daddy-O).
Plans were in motion. A trip would be made. Possibly more than one.
The space is small store front, with a sleek row of small tables wrapping around the inside, complete with padded benches and a long, polished bar. Cocktails are clearly a big part of what they're about, even at lunch, and a separate laminated bill of fare with a dozen different fancy drinks was handed out along with their menu. Want a "raisin soda"? They have one!
The restaurant is all 50's, from the décor to the fonts on their menu. Upscale 50's style food dominates the latter, with a patty melt (5 oz. of dry-aged beef, caramelized onions, and gruyere), fried cheese curds (the owner was raised in Wisconsin, so this one seems a natural), and bratwurst sliders. Sadly, the Wisconsin theme doesn't carry to making the Fish Fry out of the Walleye that's so prevalent in that state.
Burger Ordered: The Classic Double Cheeseburger.
The Taste: The Classic Double Cheeseburger is a $15 affair that promised a brisket blend, American cheese, ketchup and pickles—just the thing for a weekday lunch. The burger came, wrapped in paper (although the customary red plastic basket was replaced by a chrome one—it IS TriBeCa, after all) and with a side of nice, fresh crisp fries. The burger was quite good. Very tender, VERY cheesy. A bit salty, perhaps, but it seems like a trend these days to heavily salt burgers. The portion was decent sized for a decent appetite. A hungry guy will leave hungry—the patties, while flavorful, are very thin. I wasn't asked how I wanted them cooked, but they were perfectly pink throughout. What I liked best, really, was how tender the meat was–nothing chewy, gritty, or grainy. The burger had a nice bite, a good soft bun, and the cheese really stood out. There was a lot of cheese.
The Verdict: I felt that perhaps a "double cheeseburger" might have been a bit larger, especially for $15, and some onions (grilled or raw) would not have been amiss. There were no complex flavors that some onion would have overwhelmed—just good, old fashioned 50's drive in double burger with cheese, made out of good, fresh ingredients. I'd say it's a safe recommendation, although not a "YOU MUST GO HERE!" type of burger. I'd go back to try some of the other items as well, and the desserts look seriously tempting. Snickers Pudding? Sign me up!
The Butterfly is located at 225 West Broadway in Manhattan, New York.