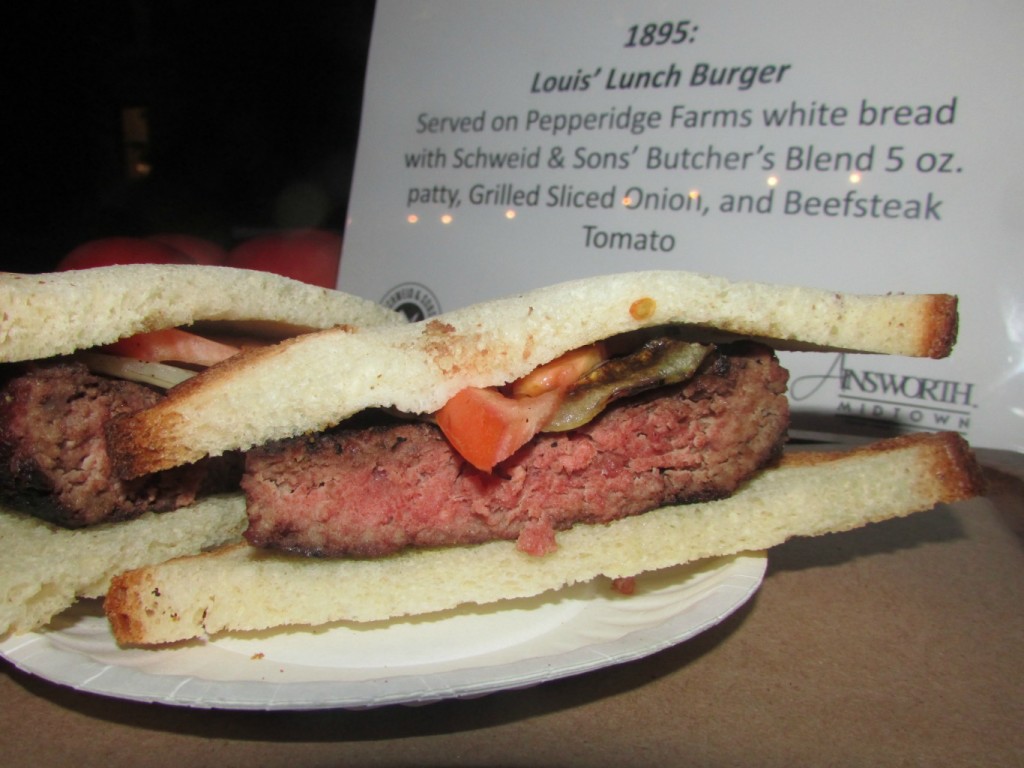 What are you doing on Wednesday? Whatever your answer it's time to change your plans. In honor of Back to the Future Day, the day that Marty McFly landed in the year 2015 in the film Back to the Future II, Ainsworth Midtown is teaming with Schweid & Sons to serve up "Burgers Through Time." Four burgers, each an ode to a time period visited in the Back to the Future franchise, are being served for one night only on Wednesday, October 21st. I tried all of these burgers last week, and they deliver. Here's the rundown.
1895: Pictured above, the Louis' Lunch Burger (pictured above) is considered by many to be the first regularly-served hamburger in America. Sadly, the hamburger didn't exist as a regular menu item with McFly and Doc Brown were fighting off Mad Dog Tannen in Back to the Future III's 1885, but this ode to one of the most influential burgers still served. The 5-ounce Schweid & Sons Butcher's Blend patty is served on Pepperidge Farms white bread toast, and topped with grilled sliced onion and beefsteak tomato.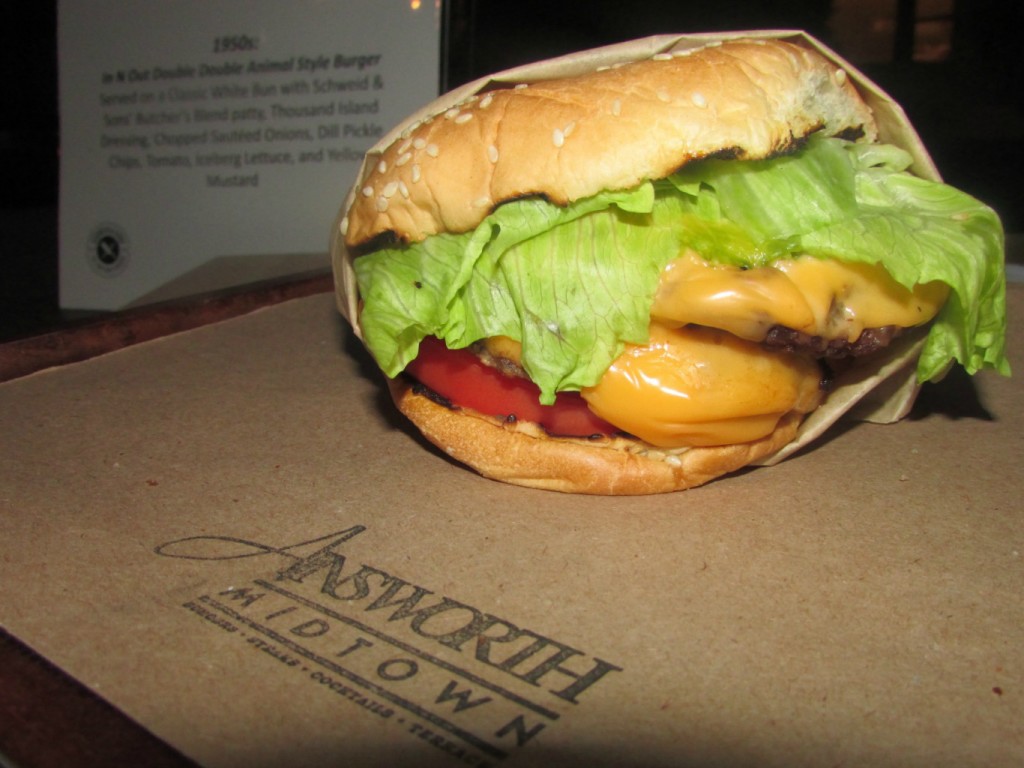 In the original film's 1955, when McFly was trying hard as possible to get his parents together while avoiding the makey-outey ambitions of his mother, In-N-Out Burger only had two locations, but they were already picking up a reputation for great burgers. The In-N-Out Double Double Animal Style Burger is served on a classic white bun, with thousand island dressing, chopped sautéed onions, dill pickles, tomato, lettuce, and yellow mustard. It's a respectable clone of the West Coast original.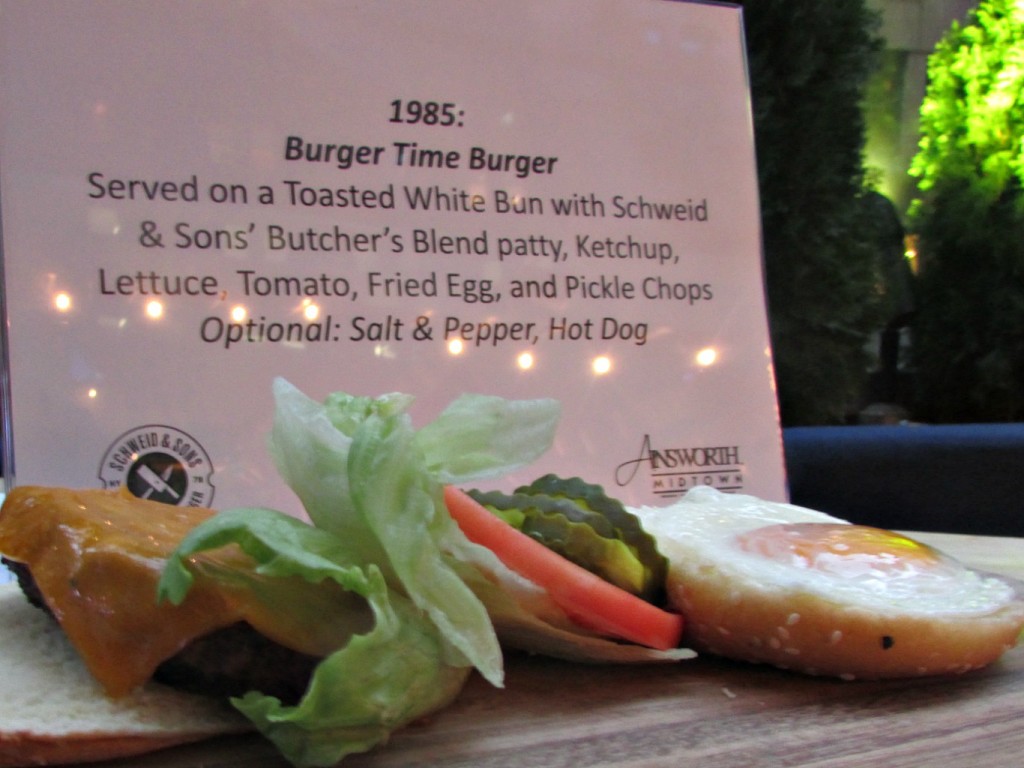 In coming up with a burger to represent 1985, which was both Back to the Future's default and darkest timeline in the second film, Ainsworth Park and Schweid & Sons looked to Burger Time, the arcade game. The deconstructed burger is made up of elements from the game, including a toasted white bun, standard patty, ketchup, lettuce, tomato, fried egg, and pickles. Optional salt, pepper, and hot dogs are also available.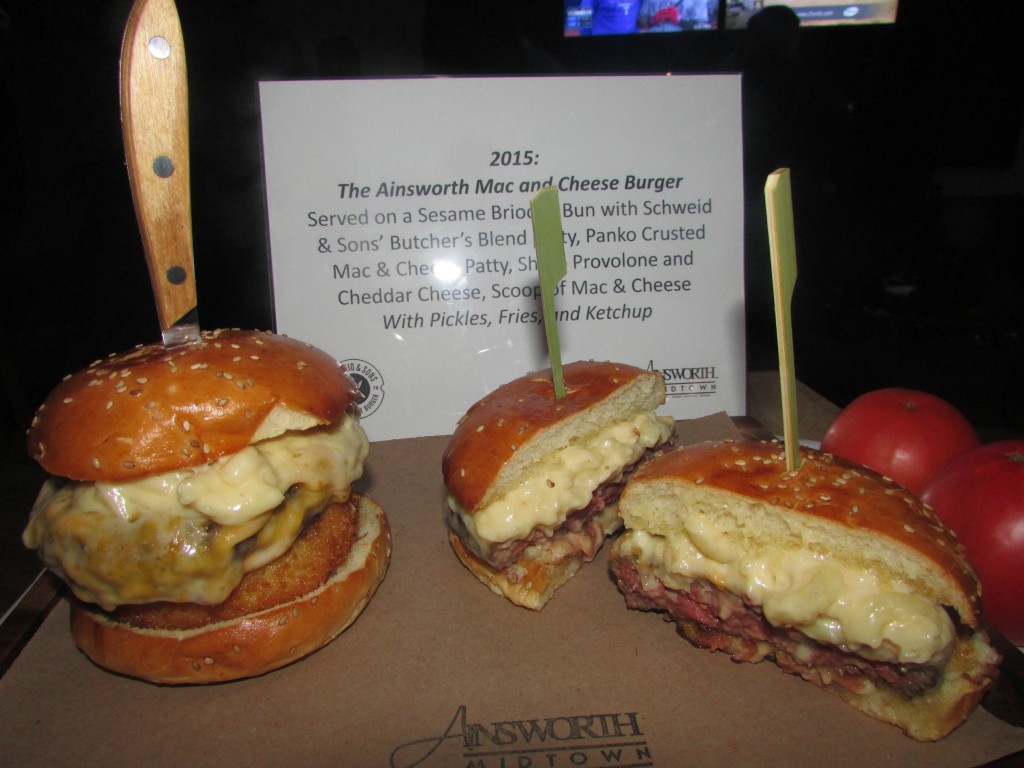 An odd amount of predictions made in the futuristic Back to the Future II, but nobody could have predicted the success and deliciousness of the Ainsworth's signature mac n' cheese burger. Luckily, the excesses of present day America are alive and well for the Burgers Through Time promotion, and you can get this delicious burger (the only one available all the time at all Ainsworth locations) as part of your meal.
The Ainsworth is located at 45 East 33rd Street in Manhattan, New York.
Sign up for Burger Weekly email updates!