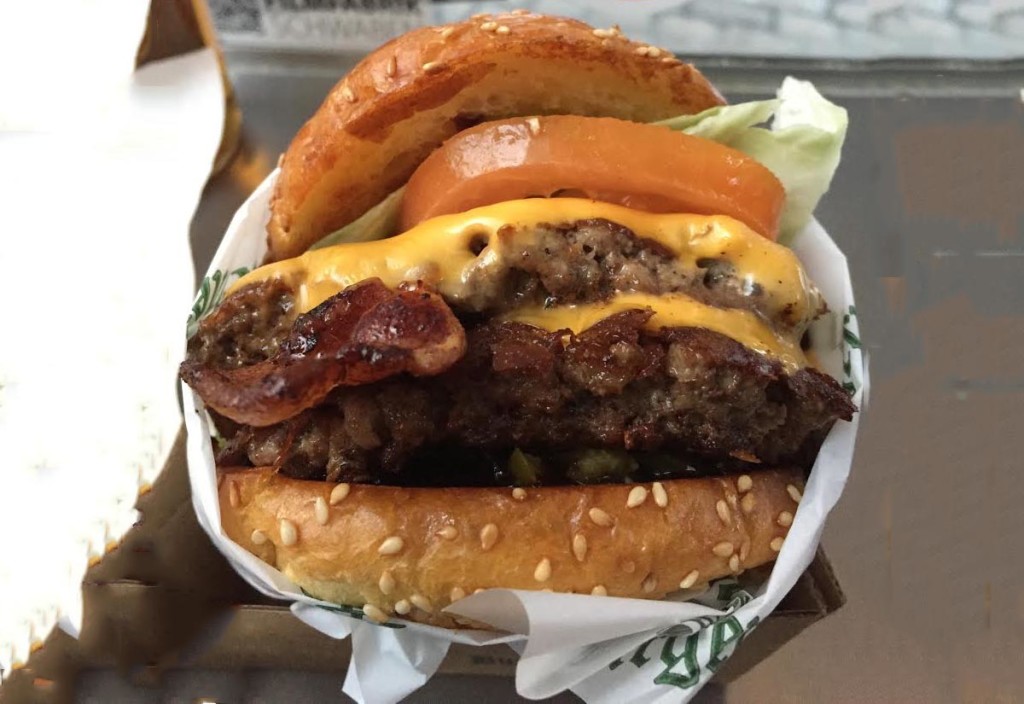 The Experience: Burgermeister is a place that has become very close to my heart since moving to Berlin in October. I have been returning there more than once a month. They make killer burgers, have cheap prices, and the atmosphere makes it even better, standing under the highline at U-bahn Schlesisches Tor.
Burgermeister is almost always open day and night. If you go out on a Saturday night for a beer or 12, you can stop by on your way to the bar. Then the following day with a hangover you can stop by to be cured from your trauma. After all, what's better than a greasy burger, a side of fries, loads of mayonnaise and a club mate on a post-drinking day?
Burger Ordered: The Hausmeister Burger and the Meister Aller Klassen Burger.
The Taste: Burgermeister is totally the essence of fast food burgers. You stand in line for some time and then order the burger you find the most delicious (with or without fries or cheese) and of course a beverage. Usually you'll pay around 10€ for an entire meal, which I find extremely cheap for the product. Many people have it to go because of the low amount of seating, and because the location is very close to Spree River. My recommendation is get the Hausmeister Burger with mushrooms. Or, if you're really hungry, go for the Meister Aller Klassen which is a huge double beefy, double cheesy, bacon, BBQ sauce and jalapeno-topped burger. It is my favorite and a very enjoyable burger.
The Verdict: Burgermeister is acknowledged by many people as one of the best burger places in Berlin. Therefor it is packed most of the time. You probably won't avoid the crowd but you should still stop by. It is very close to other attractions you're likely to visit, like Oberbaumbrücke, the East Side Gallery, Markthalle Neun, and Kottbusser Tor.
Burgermeister is located at Oberbaumstraße 8, 10997 Berlin, Germany. 
You can read more of Simon's burger adventures at Chessyburger.
Sign up for Burger Weekly email updates!