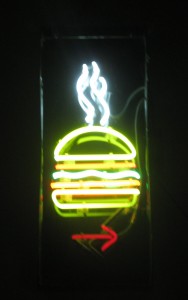 Follow the arrow at your peril.
Burgers Ordered: Brad, Matt, Simon & Michael: Cheeseburger with the works.
The Experience: Burger Joint at Le Parker Meridien Hotel looks like something of an anomaly on the surface.   In a fancy shmancy hotel, behind a very large curtain and with a sign so small that one would only see it if they knew to look for it, resides a burger grill that looks about as makeshift as the Bluth's Original Frozen Banana Stand (there's always money in the Banana Stand). But the veneer of a casual, cheapo, wood-paneled grill inside of a nice hotel is just that, as the Burgermeisters found out the hard way.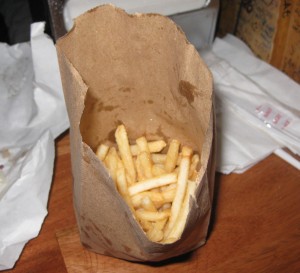 The highlight of the meal.
Taste: Matt thought the burger was okay, at best. It was a little too charred for his liking.  He could tell that it was cooked quickly over a really high flame. So while it had good color inside, the charcoal taste took away from the overall flavor of the patty. He refused to even comment on the bun. Getting the burger with the works was a decision he was happy with; a little added ketchup and mustard adding flavor. The fries made him feel like he was at McDonald's, except that they were brown bagged.
On the bright side, he thought the fact that you walk into this fancy hotel and all of a sudden there is just this corner burger hole in the wall was pretty cool. He said that the music there was killer, very indie. However, given the food state of the food the whole outing was too overpriced. The dollars spent reveal the true location of Burger Joint.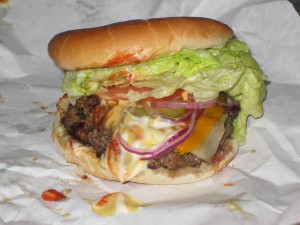 Mess = Unhappy Burgermeisters
Michael (on his second Burger Adventure) was more forgiving.  He said that while roll was a little hard on the edges, it was the only drawback to an otherwise good burger.  He noted that there was a lot of flavor throughout the burger, with the pickles, onions, tomato, cheese and and patty all tasting good.  He admitted that the burger had a charcoal taste to it but didn't find it overbearing.  He said that his burger was juicy.  The overdone condiments made the burger more messy than he liked, but overall he thought it worked.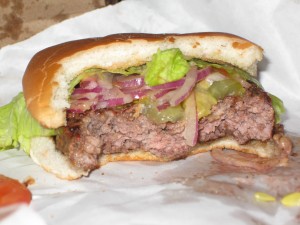 Too small to satisfy.
Simon found it to be quite a confusing burger. He said the taste switched from charcoal to a hint of flavor to no flavor. He didn't think it was bad, but he thought it was the worst of his four Burger Adventures.  None of his fixings were overpowering, which he said was nice but also makes it seem like he and Michael were having completely opposite experiences.  He said that the fries were a plus; Nice and salty as they should be. He ordered a chocolate shake, which he said tasted like Nesquick. For Simon this was awesome because it reminded him of his childhood, but for the rest of the Burgermeisters that sounded gross.
Brad had been to Burger Joint before and wasn't particularly excited about coming back.  He'd always commented on that charcoal taste was all that he could remember about the burger.  It was back in full force.  He also didn't like how rushed the whole experience felt.  There's a sign at the stand that says if you're not ready when you get to the front you have to move to the back.  Who needs that kind of pressure?  What is this, Chipotle?  Like Simon, Brad really liked the McDonald's-esque fries.  He left feeling far from stuffed, and also taken advantage of price-wise.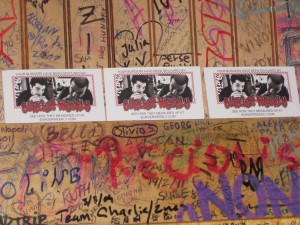 The Burgermeisters add some flair to the graffiti-covered walls.
The Verdict: The Burgermeisters came to realize that they have not been fans of the "quick food" places they've visited. The Burgermeisters are all about the experiences shared while on Burger Adventures, and places like Burger Joint don't foster those kinds of experiences. Though Burger Weekly is primarily about the burger, the Burgermeisters feel that they're often influenced by the level of fun that can be had at a Burger Adventure. They don't get to spend as much time hanging out and enjoying their food at places like Burger Joint. Burger Joint was a particularly bad offender, where the line was ridiculous and one almost feels the pressure to eat and run so that other customers can have a seat and not stand around awkwardly. Kudos to them for bringing in business, but it's a major letdown when you want to just let loose for a little. As such, in the coming weeks the Burgermeisters are going to go to places where they can actually sit down and relax for a bit.
Burger Joint is located at 119 West 56th Street between 6th Avenue and 7th Avenue.