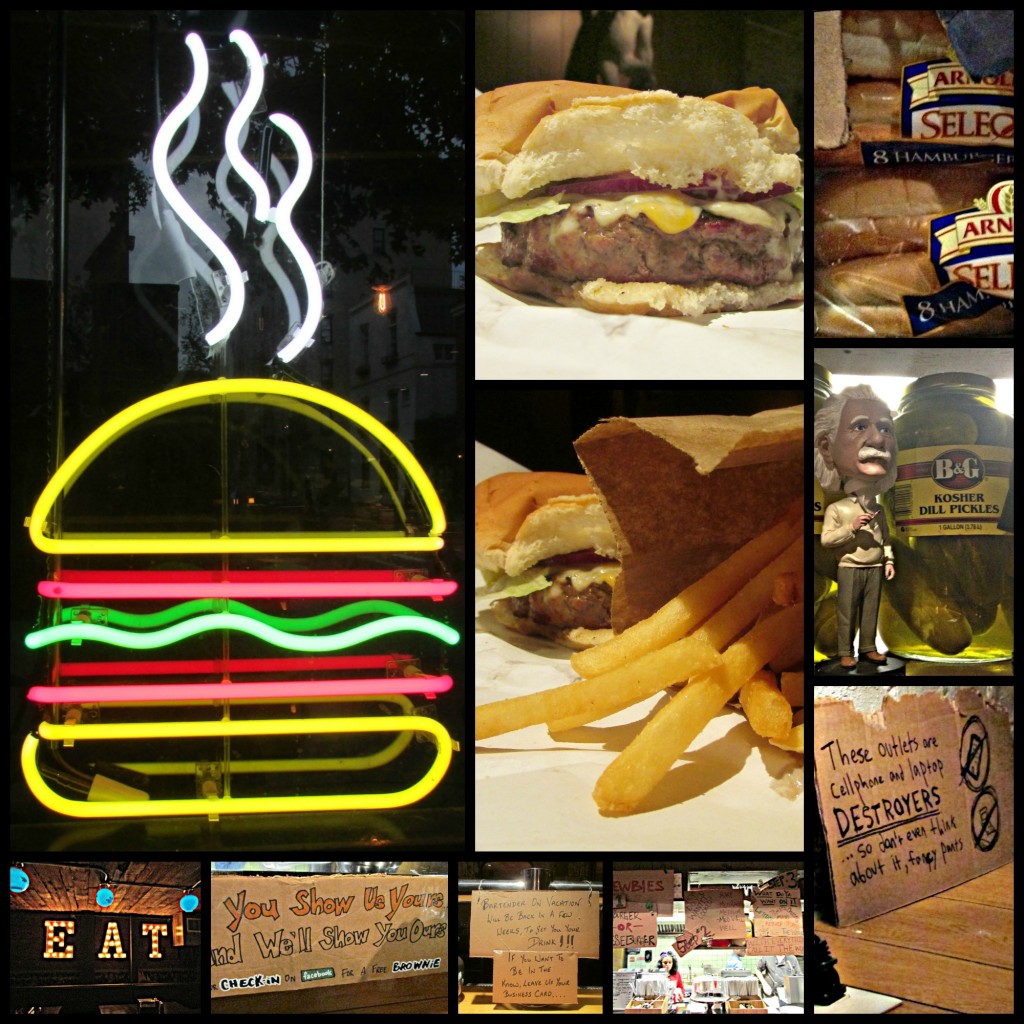 The Experience: The seemingly endless love for Burger Joint at Le Parker Meridien in the more mainstream food media (a thing we're making up for the sake of this argument) is baffling to the Burgermeisters. Experiences there have ranged from average to downright frustrating. The room is too small for the amount of people who go, and the burger just isn't delicious enough to justify having someone stand on top of you while you eat, waiting to snag your seat.
The new Burger Joint that recently opened on 8th Street between 5th and 6th Avenue is three times the size of the joint hidden inside the midtown hotel. Similarly, it hasn't caught fire as a tourist destination yet, so the line isn't ridiculously long either. The Burgermeisters wanted to see if a more relaxed dining experience made their Burger Joint burgers more enjoyable.
Burger Ordered: Cheeseburger with the works.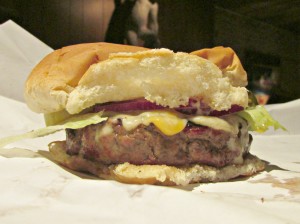 The Taste: While the burgers at burger joint are certainly respectable, the Burgermeisters were still confused as to why so many put this burger at the top of their New York City burger lists. Noting the negatives first, the buns are store bought Arnold Select hamburger buns, and the lettuce isn't much but a distraction.
On the positive side, the patty is decent enough for a shot, and the B&G kosher dill pickles are tasty. The rest of the condiments work well together, but duh, of course they do, they're standard classic burger condiments! Now that's not to say that the classic is bad. In fact, the classic burger style is great! But the intense love for this burger still confounds Burger Weekly.
On the very positive side, eating this burger in a space-generous and relaxed atmosphere made the entire experience much more pleasurable. The french fries remain excellent, suped up McDonald's-style fries. The price for the size of fountain drink you get however, is a little much.
The Verdict: If you're going to go to one Burger Joint, make it this one. The midtown one might look "cooler," but the 8th Street location has all the same cardboard signs and random decorations, while not being so crowded that you can't taste your meal. Also, the staff is nicer at the 8th Street location.
The Burger Joint is located at 33 West 8th Street in Manhattan, New York.