2015 was a great year for burgers in New York City. New restaurants debuted amazing hamburger offerings, and old favorites proved that they are still in the game. In 2015, I wrote about burgers from 73 different burger joints in New York City alone. While I do encourage you to go back and read about each of those burgers, I've created the 2015 edition of my annual top-ten list, so you can know which hamburgers in New York City are the absolute must-eats.
Before you complain about your favorite burger not being included, make sure it didn't make the list in 2011, 2012, 2013 or 2014 before you tell at me about it.

The Sad To See You Go Award: This award goes to a burger joint that came and went too soon. The Chester Midtown closed this year. More accurately, it transformed into Ainsworth Midtown. That said, the unique Chester Burger is gone forever, along with its pimento cheese. It will be missed. |FULL REVIEW|
The Worth The Trip Awards: This award goes to the best burgers I ate in 2015 outside of New York City. These destination burgers are must-have for traveling New Yorkers.
In Miami, Kush was delightful from beer to burger. |FULL REVIEW|
In Detroit, Ale Mary's Beer Hall used beer cheese to stand above the rest. |FULL REVIEW|
In Chicago, Luella's took the top prize. |FULL REVIEW|
The Best Hamburgers in New York City in 2015 – Honorable Mentions
The Best Hamburgers in New York City in 2015 – The Top 10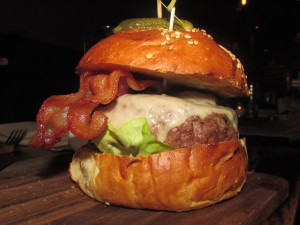 10. Atwood – Atwood Burger: While the burger and french fry competition in this neighborhood is not particularly fierce, Atwood should still be proud that it is standing tall as a top burger provider in east midtown. |FULL REVIEW|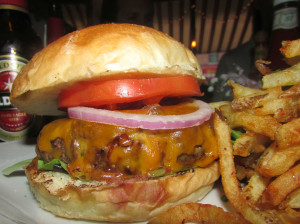 9. Eastwick – The 1/2 Pound Beef Burger: You know you ate a lot of amazing burgers in a year when the very best chargrilled burger on the list only makes it to number 9. Grab a Goldstar and enjoy this backyard-style burger experience. |FULL REVIEW|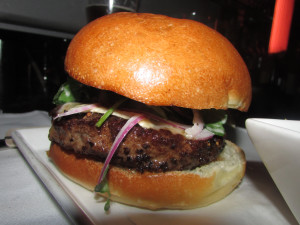 8. Raoul's – The Burger Au Poivre:At $19, this meal is a steal. You get an upscale burger with fancy-pants flavors, you can pair it with a great beer that's as rich as the burger itself, and you will leave with your belly completely full. |FULL REVIEW|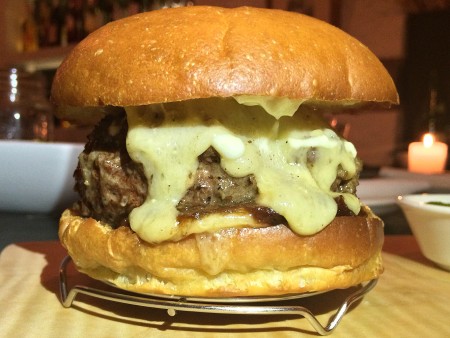 7. Virginia's – Virginia's Burger: This sucker is nuts with flavor. The succulent succulent short rib/hanger steak blend patty, the absurdly savory Vidalia onion marmalade, the smack-you-in-the-face cabot cheddar, and the sturdy but pliable bun make for a burger that I couldn't deny a spot on this list, despite the fact that I ate it only 4 days ago. |FULL REVIEW|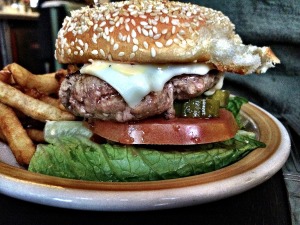 6. Park Luncheonette – The Park Luncheonette Burger: Though not a particularly big burger, Park Luncheonette's offering is perfect for lunch, packs in a lot of flavor, and leaves you satisfied without making you want to sleep for the rest of the day. Plus how can you go wrong with a burger AND pizza?. |FULL REVIEW|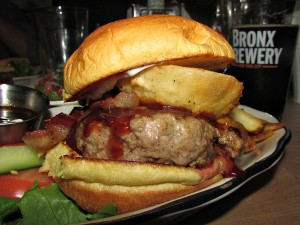 5.Black Tap – The All American: Chef Joe Isidori wants to serve you simple burgers and cold beer while you listen to good tunes and maybe take in a game. On that they deliver, so go and be patient while you wait for a stool to open up. Or walk to Meatpacking and eat equally delicious burgers at the second location. |FULL REVIEW|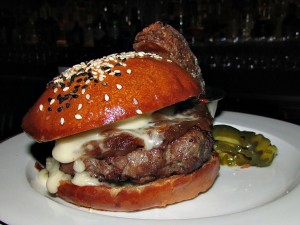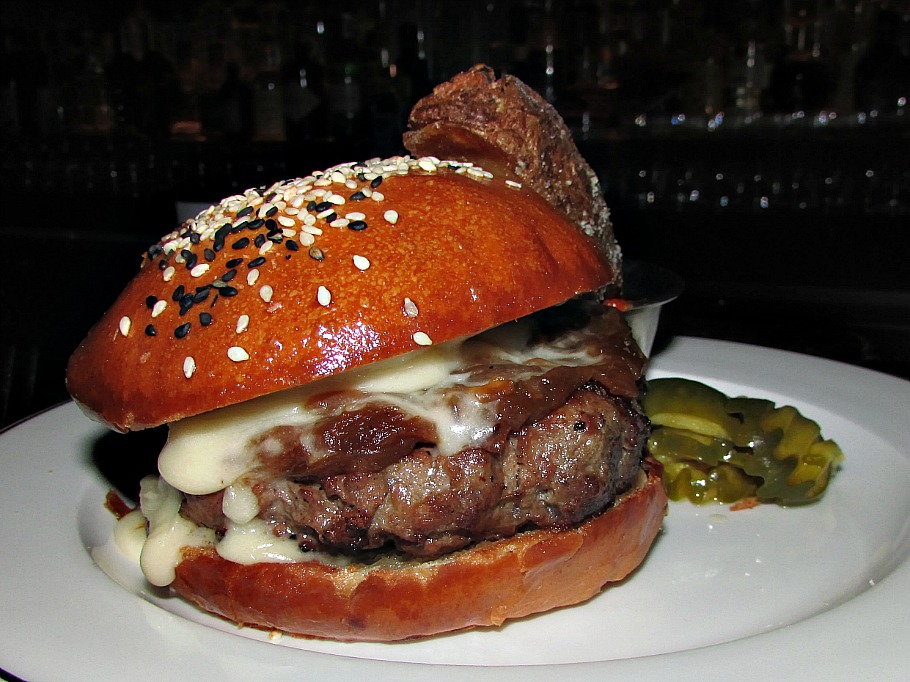 4. American Cut – The In House Burger: Marc Forgione's all in-house take on a hamburger at American Cut stands out by remembering to have fun. I can't stress how important that is in crafting a burger. |FULL REVIEW|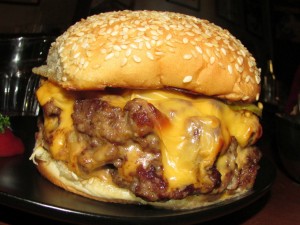 3. Grindhaus – Burger Thing: There are a lot of great reasons to spend a day in Red Hook, but Grindhaus' burger makes a strong case for considering a permanent move to the neighborhood. It is stunningly simple and packed with mouth-swimming beef, cheese and pickles. |FULL REVIEW|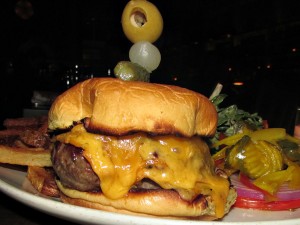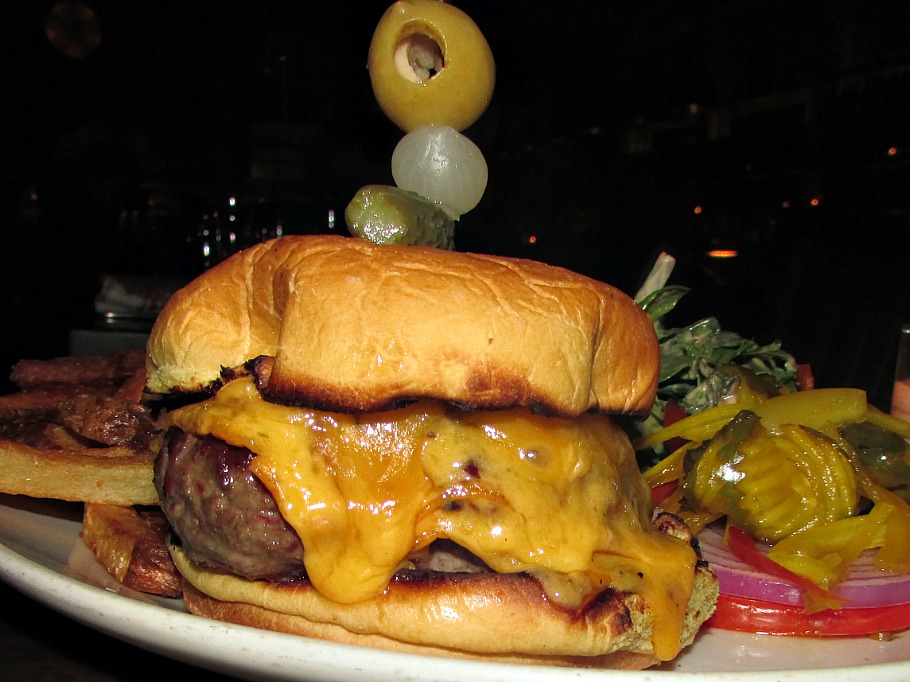 2. Almond – The Deluxe Burger: The burger here is tasteful, and tastes incredible. The service is impeccable and the atmosphere is quite cozy. I don't know of another burger quite like this in New York City, so it gets the runner-up spot on this list. |FULL REVIEW|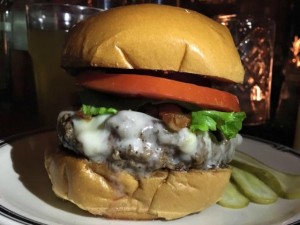 1. Joe's – The Bacon Cheeseburger: This place just opened up in April and it has already set my hamburger-loving mind on fire. The patty is so rich with flavor that the burger at Joe's will have you singing its praises. I don't care how far you live from the Upper West Side, this burger is a must-try. It is one of the few burger joints that gets repeat visits from me. |FULL REVIEW|