Holy hell, did I eat a lot of burgers this year or what? In 2013, Burger Weekly ate burgers from 73 different burger joints in New York City alone. While I do encourage you to go back and read about each of those burgers, I've created the 2013 edition of my annual top-ten list, so you can know which hamburgers in New York City are the absolute must-eats. But first, a few honorable mentions and why they were left off of the list.
The Luncheonette – Chef Andrew Zurica has an obsessive mind for hamburgers, and as such he created one of the absolute best I'd ever had in my life at the Luncheonette in Mill Basin, Brooklyn. Unfortunately, collateral damage after Hurricane Sandy took its toll on the restaurant, and its distance from a major subway line didn't do the joint any favors, so it closed its doors this year. I was lucky enough to eat Zurica's burger again at Jalapeño a little later in the year during one of his one-off pop-up burger nights. You can see where his burger will pop up next by following him on Facebook.
Red Rooster – I try to make a concerted effort to eat burgers in neighborhoods that I've neglected throughout Burger Weekly's history. This year that meant a month in Harlem and a month in Queens. The gem in the Harlem Tour's crown was Red Rooster. This burger really knocked me off of my feet. It misses out on a spot in the top ten because it was served a bit colder than a burger should be served. But its flavor was undeniable.
5 Napkin Burger – I actually went to two 5 Napkin Burger locations this year and ate three burgers; the Veggie Burger, the BBQ Burger, and the Knockwurst Burger. The Knockwurst Burger was far and away the best of the bunch. It was unique, packed with sausage flavor, and seasonally festive. Ultimately, it was its seasonal nature (served only in October) that kept it out of the top 10. However, I have little doubt that 5 Napkin will bring this treat back next year. Be sure to grab it then.
Roebling Tea Room – Williamsburg is a very strong neighborhood in terms of quality burger offerings. DuMont in all its forms and the Commodore all serve up fine patties 'n buns. But Roebling Tea Room served the top Williamsburg burger in 2013 (though the most notable certainly was Smorgasburg's Ramen Burger). There was nothing glaring that kept this insanely decadent brunch-style burger out of the top ten, there was simply too much tough competition this year.
Little Prince – Adding a french onion soup theme to unrelated foods has become something of a thing of late. I recently had french onion soup mussels at Flex Mussels, and Little Prince serves up a French Onion Soup Burger. The crispy muffin bun, tender patty, and signature onions and mustard made this one incredibly memorable. Like the burger at the Roebling Tea Room, only the sheer amount of competition keeps it out of the top ten.
10. Company Bar & Grill – Company really caught me off guard. The Burgermeister crew tried both the BBQ Burger and the Breakfast Burger. The Breakfast Burger might have been the best patty melt I've ever had. The messy patty was covered in gooey egg, and the buttered toast upon which it was served made we want this as a daily breakfast. The sauce on the BBQ Burger was also mind-blowing. I would go back to Company repeatedly for the sauce alone.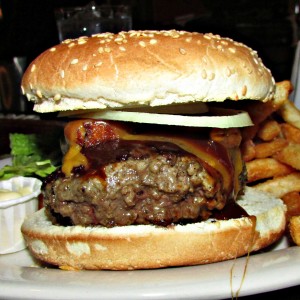 9. Blue Smoke – We had the honor of dining at Blue Smoke for our 100th Burger Adventure. At this event we gathered 100 hungry Burgermeisters and chowed down on the Blue Smoke Bacon Cheeseburger (and a few veggie burgers for the rabbits). The excitement of this glorious day played into my love for the burger a bit, but it is without hesitation that I place this burger in the top ten with a very strong recommendation. The fact that they grilled up scores of burgers at once and left the entire group happy is a testament to culinary mastery.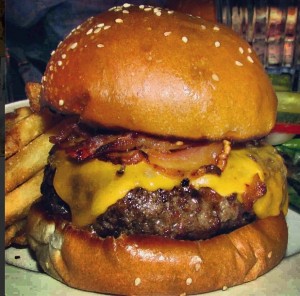 8. Munchie Mobile – In addition to paying attention to a few neglected neighborhoods, I also made sure to hit my fair share of food trucks this year. The top spot in the NYC hamburger truck list goes to Munchie Mobile. They had the most diverse options available, and even a unique burger like the Gouda cheese topped Magician Burger was all the work day lunch one could ever hope for.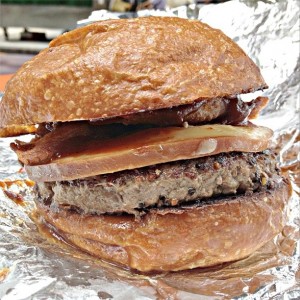 7. Bareburger – The first time I went to Bareburger, in the early days of Burger Weekly, it was as part of a Grub With Us dinner. They served sliders instead of full-sized burgers. They were tasty, but my mind didn't bend. As time passed, more and more people told me that Bareburger was their go-to burger joint in New York City. So when they opened up a new location near me I had to check it out. I ordered the elk burger, and became a full-blown Bareburger convert. Why aren't all burgers made of elk? Are elk endangered? I admittedly know very little about elk, aside from knowing how tasty they are in burger form!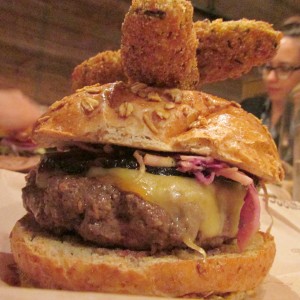 6. Ai Fiori – The Blue Moon Burger Bash was a whirlwind of beef and buns. The entire experience was actually a little overwhelming for me. But through all the stimuli and shouting, one burger slaughtered the competition and won my affection. The burger at Ai Fiori didn't defend any of its 2012 championships in 2013, but I truly feel that it was robbed. It was messy, delicious, and has me searching for an excuse to go to their midtown location so I can eat their burger without seven other burgers in my stomach.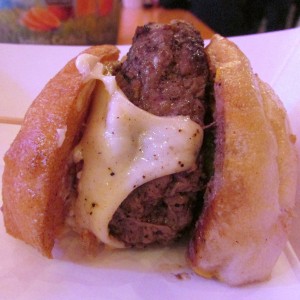 5. Queens Comfort – A lesson in excess, gluttony, and imagination. When I tell people about this burger, they defy me to explain how I could love it so much. Topped with sweet honey and powdered sugar, along with savory mayonnaise, bleu cheese, and pecan encrusted bacon, this burger was more than enough meal to fill my stomach for the entire weekend. I am not exaggerating when I say that I went into satisfied hibernation after eating this meal (and cleaning my plate). The amazing burger, and the unspeakably fun atmosphere at Queen's Comfort left me beaming.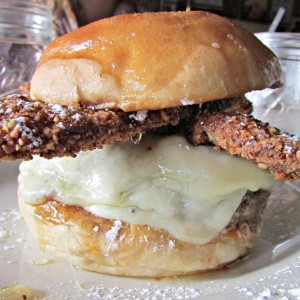 4. Umami Burger – Remember when everyone had to wait in line at the inaugural Googa Mooga festival for everything? Remember when everyone waited in line at Umami Burger when it opened in Manhattan? Well I was lucky enough to be present when Googa Mooga and Umami Burger converged at the 2013 festival, during which the line was short and moved swiftly. I became an Umami booster the moment I took my first bite of their truffle burger. How they were pumping out so many burgers of such incredibly quality was beyond my comprehension, and that earned them this spot on my list.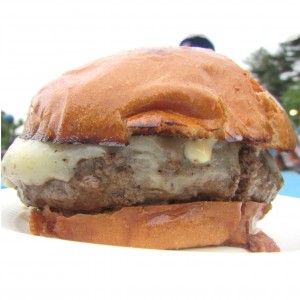 3. Hudson Common – Grease: it's more than a musical. It's a byproduct of delicious food being cooked, and evidence of our inevitable mortality. It was all over the burgers at Hudson Common, and all over my hands and face by the time my meal was through. I could not possibly have cared less. There was so much amazing burger flavor coming out of Hudson's Common's beer hall that by the time I left, I had already begun messaging my foodie friends about this delicious find. Hudson Hotel looks cool on the outside, and tastes delicious on the inside.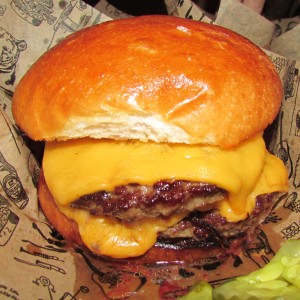 2. Commerce – After eating a hamburger, I often want to take a nap. But only when eating the cheeseburger at Commerce did I want to close my eyes during my meal. It was not because I was bored, but rather because the bun was so soft and pillowy that I could think of no better place to rest my head. The bun alone earned this burger a place on this list, but its overall composition and taste was what shot it up to #2. Commerce is tucked away in the West Village, but you owe it to yourself to find it and eat their Tavern Lunch.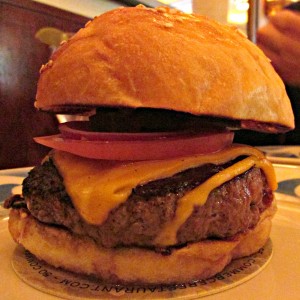 1. The Odeon – I don't say this lightly: The Odeon serves the best burger I have ever eaten. There are no gimmicks. The burger isn't fancy. The Odeon has been around for decades and doesn't use any wacky marketing tricks to get customers to come in. It is frequently very busy, and that is because their food is exquisite. Daniel Boloud has called this his favorite hamburger, proving the man not only knows how to cook and serve burgers, but how to enjoy the very best as well. There is simply no place that gets a higher recommendation from me than The Odeon.