Gansevoort Market Brings the Burger Goods |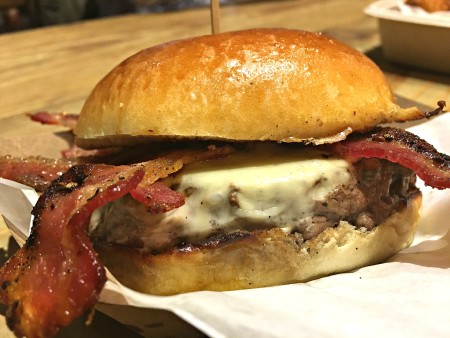 Gansevoort Market has officially relocated to West 14th Street, and along with the move comes a new addition to the court: Burger Inc. Christopher Wong, who I met shortly after he opened Breakroom a few years back, and who also owns LES Kitchen, is one of the founders of Burger Inc. I loved Breakroom, so I was unsurprised to hear that LES Kitchen had a great burger and excited when my friend Ammar Shallal of Burgerator recommended we try out Burger Inc. The menu is simple and small, so we were able to order just about everything.
Burgers Ordered: The Don, Burger Inc., and $$$ Bacon
The Taste: All of Burger Inc.'s Angus burger meat comes from the very local RFM Specialty Cut Meats. The Don comes topped with bone marrow and American cheese. I was pleased to find that the burger was rich, but not overwhelmingly so. This is Burger Inc.'s most expensive burger at $15, and for a bone marrow burger in New York City that's a pretty good deal.
The namesake burger is topped with caramelized onions, lettuce, tomato, pickles, and special sauce. It's exactly what you'd expect from a high-quality take on the class Big Mac, though it thankfully bares little resemblance to the iconic burger outside of its list of toppings.
The $$$ Bacon was the real winner for me. The bacon on this burger was fantastically crispy and savory, really setting off the meal and juxtaposing the sweet brioche bun nicely.
Burger Inc. also serves up a solid chicken sandwich, which they call the Rival, as well as crazy sides like mac & cheese poppers and the Crew, which is a serving of fries loaded up with roast pork, rib eye, chili pepper, bacon, a fried egg, and hot sauce.
The Verdict: This is another win for Wong and his team, who are making delicious quick serve burgers a staple from 14th Street to Chinatown to the Lower East Side.
Burger Inc. is located at 353 West 14th Street in Manhattan, New York.
Sign up for Burger Weekly email updates!