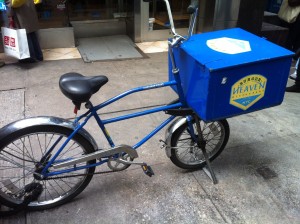 Heaven or Hell?
Burgers Ordered: Matt – Chili Burger; Frankie – Cheeseburger.
The Experience At Burger Weekly, the Burgermeisters have never been accused of being cynical. In fact, they've often been accused of taking it easy on the burger joints in New York City. The simple truth is, they're not out to "get" burger restaurants. They love that burgers are the focal point of so many eateries in the city and our mission is to celebrate them. However, from time to time they experience something heinous enough to make light of the negative.
Burger Heaven was a crippling experience for Burgermeister Matt. Because of its angelic name, Matt assumed that there would be a massive number of burgers to choose from. After all, Island Burger has over fifty different burgers on their menu, and they don't claim to be an afterlife paradise for burger lovers. This was not the case.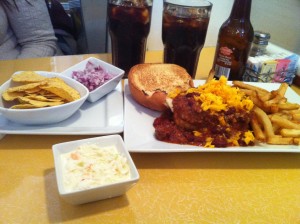 That meal sure takes up a lot of space.
As it turns out Burger Heaven is only heavenly if you're the type who only wants to pay bottom dollar. The burgers are broiled, which is how Burger King prepares their burgers. There are only four burger varieties to choose from. But the real crime for Matt was how the burgers looked and tasted.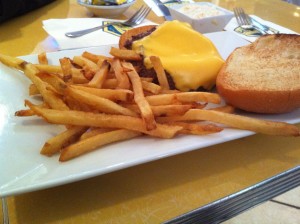 About as sad a cheeseburger is going to look.
Taste: Matt's chili burger was a total mess. It tasted to him like something a health conscious mom would make for her children quickly on a Sunday afternoon. Matt exposed his girlfriend Frankie to this burger atrocity. She wasn't a fan of her burger's texture or bland taste. Brad was thankful to be left out of this experiment.
Now, it wouldn't be a Burgermeister article without something positive to say. Matt enjoyed the shredded cheddar on his chili burger and Frankie, sweet girl that she is, said she enjoyed the burger overall. Both of them liked the cole slaw.
Verdict: If you're an aspiring Little Meister, you'll recognize that there are scores of better burger joints in New York City.  Stay away from Burger Heaven, as it is anything but a bovine paradise.
Burger Heaven has four locations at 49th,  53rd,  54th, and 62nd Streets and Madison Avenue.