Burgers Ordered: Brad – Bacon Cheeseburger
The Experience: Burger Burger is a small burger grill on the outskirts of Stone Street in the Financial District.  It features a counter with a few seats inside and about half a dozen tables that it more or less shares with neighboring restaurants outside.
Brad has worked near Burger Burger for a year now, but because of the strict Burgermeister schedule he had never been able to sample their wares until this week.  Burger Burger has an incredibly extensive burger menu, featuring different types of meat, different sized patties and a multitude of topping and sauce options.  Overwhelmed by the wealth of choices, Brad went for a traditional bacon cheeseburger to see what Burger Burger is all about in the most primordial sense.
The incredibly polite grill jockeys had Brad's burger ready in about five minutes.  He took his meal, which includes fries for all burgers, outside for a lunch in the sun.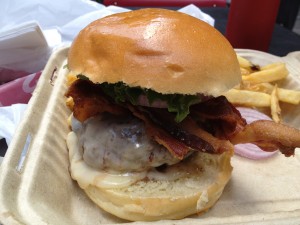 The Taste: Brad realized quickly why Burger Burger goes to such great lengths to offer so many condiment and topping options on their burgers: the patty itself doesn't have a lot of flavor.  This was exactly the same situation that he and Matt noticed at 67 Burger. The size of the patty was commendable, as was the beef's texture, but within this puck of meat there was simply not much in the way of seasoning.  The patty was cooked to order and juicy, so it was certainly a competently made burger.
The brioche bun was sturdy and tasty, holding up against the flowing juices from the patty.  For some reason the bun was served quite cold, which made the first few bites a bit of an awkward experience.  However, once the burger and melted cheese did their work on the bun, its temperature was no longer noticeable.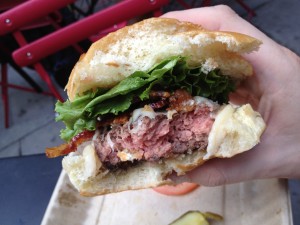 The bacon was decent but uninteresting. It tasted like bacon one might get as a side to eggs at a nondescript roadside diner.  The fries were also serviceable.  The sweet cheese, like everything else on the burger, tasted fine but was hardly memorable.
The Verdict: Brad has had worse burgers at places like Burger Burger during his Burger Adventures.  Burger Burger is an alright place to grab lunch if you're in a pinch during work hours in the Financial District, but given that Vintry is right across the street, a Little Meister with a few extra minutes and dollars will probably want to venture there.
Burger Burger is located at 77 Pearl Street at the corner of Stone Street.