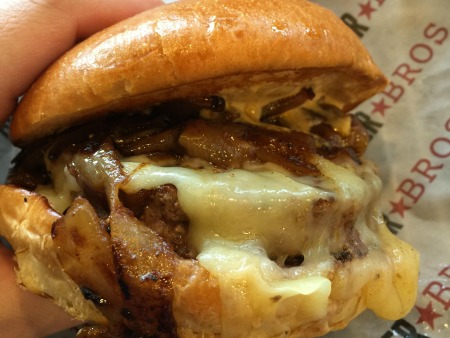 I've been seeing advertisements all over Monmouth County advertising Burger Bros in Marlboro lately. Unfortunately, I haven't been able to get there until this past Saturday. While the shop itself doesn't look like much from the outside, as it's set in your typical cookie cutter New Jersey shopping plaza, as soon as you step inside the scent of burgers and fries makes you realize that you're in for a good meal. 
Burger Ordered: The Short Rib Burger (January Burger of the Month)
The Taste: In preparation for my visit to Burger Bros I had looked over the menu a few times and thought that I was all set. That was until I got there and saw the Burger of the Month sign, and all that planning went out the window. This burger had tons of taste. It was topped with melted white cheddar cheese, homemade cajunized onions cooked to perfection, and a secret sauce that tasted like chipotle aioli. The toasted brioche bun was perfect for this burger. The patty was perfectly cooked, and was a great blend of short rib and chuck, which is always a treat. I ordered the Texas Cheese Fries as my side order, and wow was that a good choice. This was a large platter of fries topped with cheese whiz, bacon, ranch and jalapeños. This was quite possibly the best tasting order of fries I've ever had.
The Verdict: I came away very impressed with Burger Bros. It was a great spot, and the guys over there know what they're doing. It's going to take a bunch of trips back to try the other 14 burgers they offer on the standard menu. The only question is which side order of fries I order?
Burger Bros is located at 460 County Road 520 in Marlboro, New Jersey.
For more of Michael's burger adventures, check out burgerguysnyc on Instagram.
Sign up for Burger Weekly email updates!