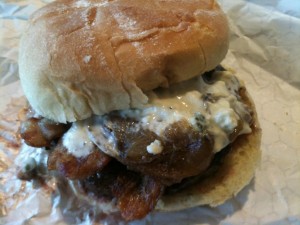 A Quick and Delicious Bite
Burger Ordered: Christopher – Bleu Cheese Bite
The Experience: Burger Bite is a small burger shop located on Hempstead Turnpike in West Hempstead, New York. You can eat in or get your order to go. If you're dining in you place your order at the counter, pay up, and they will gladly bring over your order when ready. The place is clean with a cool décor consisting of witty signs and the occasional musical instrument. They have a menu consisting of ten signature burgers as well as giving you the option of building your own. They offer French fries, sweet potato fries, and onion rings as sides. They also offer entrees of the non-burger variety.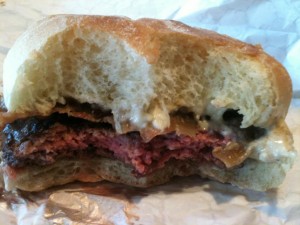 Bleu Cheese Overload… And I like it!
The Taste: I ordered the Bleu Cheese Bite which is an Angus Beef burger with caramelized onions, bleu cheese, crispy bacon, and bleu cheese sauce cooked medium rare. I chose French fries to accompany my burger on its journey into my stomach. The patty was cooked to perfection and it oozed its juices after every bite. The bleu cheese and bleu cheese sauce were flavorful but not overpowering and the bacon was crispy and delicious. The bun was your standard white bun. The fries were good but nothing spectacular.

The Verdict: If you're looking for a good quality burger and willing to wait a bit longer than your average fast food chain then this place is a sure hit. I've been many times and continue to enjoy it. A tasty burger at a good price cooked the way you want it using quality ingredients.
Burger Bite is located at 616 Hempstead Turnpike in West Hempstead, NY.