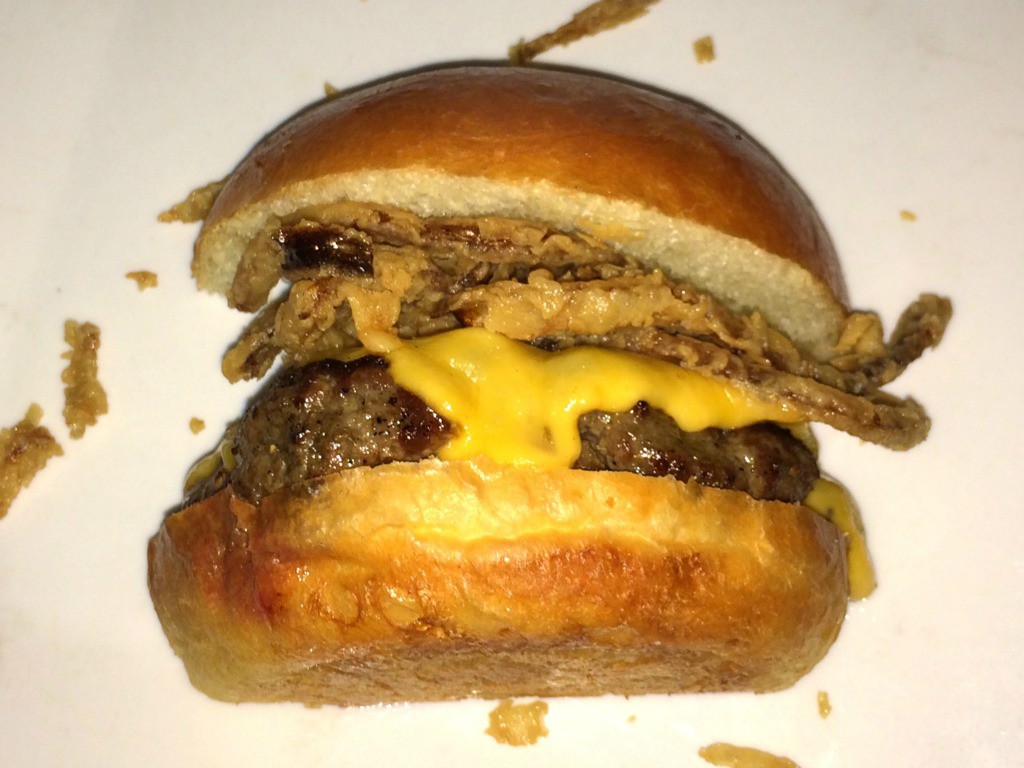 The Experience: Burger Bistro first came to my attention when it opened its third location, an Upper East Side outpost, two years ago. Everyone I knew started sending me messages about this new burger joint (in truth, its Bay Ridge location had been open for years) that was selling Donut Burgers. I was intrigued, but alas, things get lost in the shuffle and I never made it to Burger Bistro uptown or in Brooklyn. Then, a few days ago, my burger buddy Rev from Schweid and Sons invited me on an Upper East Side burger crawl. Burger Bistro was the first spot on our list. As it was a Monday and the Donut Burger is only served on Wednesdays, I went ahead and built my own burger.
Burgers Ordered: Build Your Own Burger
The Taste: I went with a beef patty topped with sharp cheddar cheese, bacon, and frizzled onions, along with some fries and a side of chipotle mayo. This burger was BLOODY inside, with the most tongue-delighting char on the outside that I could have hoped for. The frizzled onions, cheese, and bacon swirled together to create a flavor combination that blew my mind. Even having eaten only half the burger and fries, I could have gone home reasonably satisfied with my meal. That's a hell of a thing for a man with my appetite to say.
The Verdict: I'm going to have to revisit Burger Bistro on a Wednesday to see if the Donut Burger is worth all the buzz it got, but regardless this restaurant is worth visiting for the countless combinations that can be made from quality burger elements.
Burger Bistro is located at 1663 1st Avenue in Manhattan, New York.