The Bliss of a Bachelor Party Burger |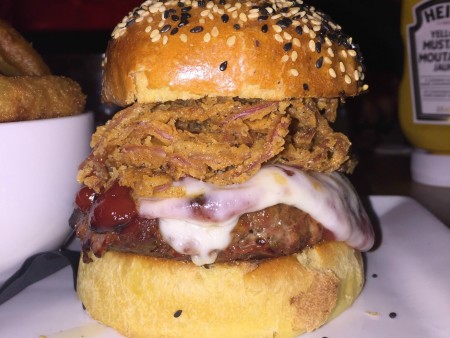 I went up to Montreal for a bachelor party and besides having a great party scene, the place is a foodie's dream. There seems to be really good restaurants everywhere you turn, and to my delight, many of them are burger joints. When I think of Montreal food, I think poutine, but they are also on top of their game when it comes to burgers. I had done a bunch of research before the trip and was actually able to make my way to four spots, each with some real good burgers. My favorite, however, came after a long day of partying, and was from Burger Bar Crescent. This was a really cool spot, with a great menu of 17 burgers. I tried two of them, and one definitely stood out as the best of the trip.
Burger Ordered: The Dude
The Taste: This burger was Burger Bar's submission for Burger Week 2014, and I can definitely see why. The taste was incredible, and this was definitely one of the top 3 burgers I've had this year. The burger itself is a combination of AAA beef, veal, and pork blend, which by itself would have been great. It's then topped with Monterey Jack cheese, Mozzarella, spiced ketchup (which was awesome), and crispy fried onions. The burger is served on a perfectly toasted, seeded bun which actually added to the great taste. Awesome burger in an awesome town
The Verdict: Burger Bar Crescent is definitely a must-try when visiting Montreal. Went with a group of 6 guys, and everyone loved their burgers. Throw in 6 different types of poutines (the Hot N' Spicy and the Smoked Meat were the best), and you have yourself one of the better burger experiences you'll find, regardless of location.
Burger Bar Crescent is located at 465 Rue Crescent in Montréal, Quebec, Canada.
Sign up for Burger Weekly email updates!