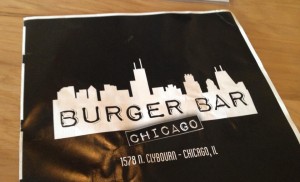 Burgers Ordered: The Half Pound Burger and the Wild Bill Burger.
The Experience:  Chicago Burgermeister Michael grabbed his buddy Adam for his sophomore Burger Adventure as a part of Burger Weekly and took him to Burger Bar Chicago. Burger Bar has a nice atmosphere for a place in the North/Clybourn Lincoln Park area.  Michael said that the waiters were a little snooty but not so much so that it effected his meal.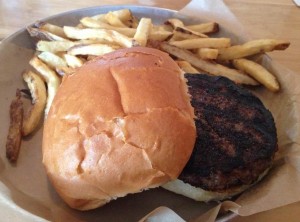 Michael called Burger Bar a little pricey, at fifteen dollars per gourmet burger on average. Michael stripped his order down just to bread and meat, which brought the price down to ten dollars, which includes fries. Burger Bar is famous for their mac & cheese and bar food sides, which are a meal unto themselves, but he and Adam were on a mission to eat burgers.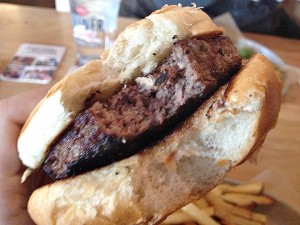 Michael had been to Burger Bar before several times, but had always gotten his burger well done. To Burger Bar, well done means charred to hell. This time, Michael took their advice and got it prepared medium, which is what medium well to well done tastes like everyplace else. He said that was delicious, and tasted like a gourmet fire grilled burger with great flavor.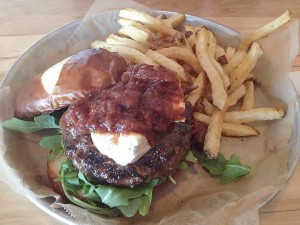 Adam really enjoyed the Wild Bill, but commented that it was really messy by the end of the meal. The regular french fries are excellent, just the right blend of crispy and soft, and naturally salty. Burger Bar doesn't have salt and pepper on the table, but does have four different variety's of ketchup.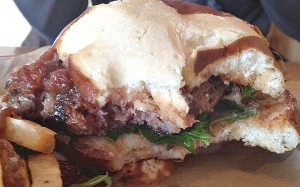 The Verdict: Burger Bar may be a little too much on the pricey side to be a regular lunch or dinner spot, but if you decide to go you'll be very pleased with your meal.
Burger Bar Chicago is located at 1578 North Clybourn Avenue in Chicago, Illinois.