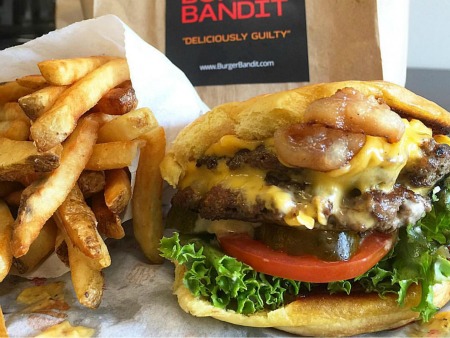 A corner store location in a very busy intersection means a long walk from wherever you are lucky enough to find parking. The decor gives off a purely modern vibe; from stainless steel signage and appliances, to 60 inch HD screens presenting the menu. An overwhelming smell of fries, fresh out of an oil bath, hits you in the face at the front door… Which is not necessarily a bad thing.

Burger Ordered: The Classic Double with Bacon
The Taste:  The main goal of venturing to Burger Bandit was to see how their burger stacks up against certain chains who claim to be the industry leaders in greasy burgers. This is why the classic double cheeseburger with bacon was the necessary option, despite items including guacamole, egg, or onion rings. The taste was greasy and fatty as expected, decent flavor and size. The burger itself can definitely be compared to large chains who are attempting similar results. Unfortunately, the fries lost the argument for Burger Bandit.
The Verdict:  So how does burger bandit stack up against the likes of Five Guys, or Smashburger? Quite frankly they fall just short of the mark. The plus side being Burger Bandit gives you the largest burger. On the down side, the fries were far from crisp. Some people may enjoy soft fries, but those people may also be crazy.
Burger Bandit is located at 2 Broadway in Lynbrook, New York.
Follow @tasting_longisland on Instagram to see our journey for the best food on Long Island! #GetTasted #TastingLongIsland
Sign up for Burger Weekly email updates!