On the Necessity of French Fries |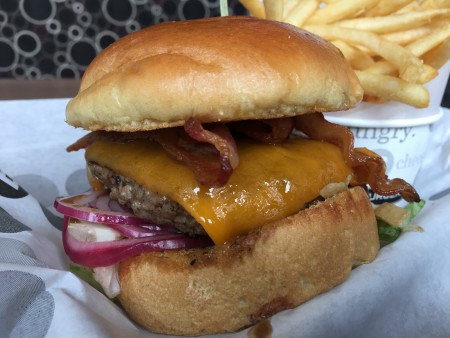 Burger 21 is an anomaly in that it is a burger chain with over 20 locations that I had not heard of until I saw it driving down the road in Novi while visiting family in Michigan. Granted, the closest location to my New York City apartment is over 100 miles away, I like to think I have my finger on the pulse of these things. Apparently I do not, so I had pull over and to see what Burger 21 brought to the table.

Burger Ordered: The Bacon Cheesy
The Taste: The restaurant is aesthetically very similar to Smashburger, but where it differs is in the attention placed on burgers vs. fries. Whereas Smashburger is all about hamburger focus, as Burger 21, a french fry sauce bar gives away that their big draw is the spuds. To be honest, the burger was nothing to write home about, but I enjoy funky fry sauces and this joint had them in spades. Is a marshmallow fry sauce necessary? Of course it isn't, and frankly it was kind of gross. But the chipotle mayo was fantastic and I'm glad all of those options exist.
The Verdict: If you've got a fry jones going and there's a Burger 21 nearby, give it a visit. If not, there's no need to lament that their probably isn't a location near you.
Burger 21 is located at 26425 Novi Road, Suite F in Novi, Michigan.
Sign up for Burger Weekly email updates!