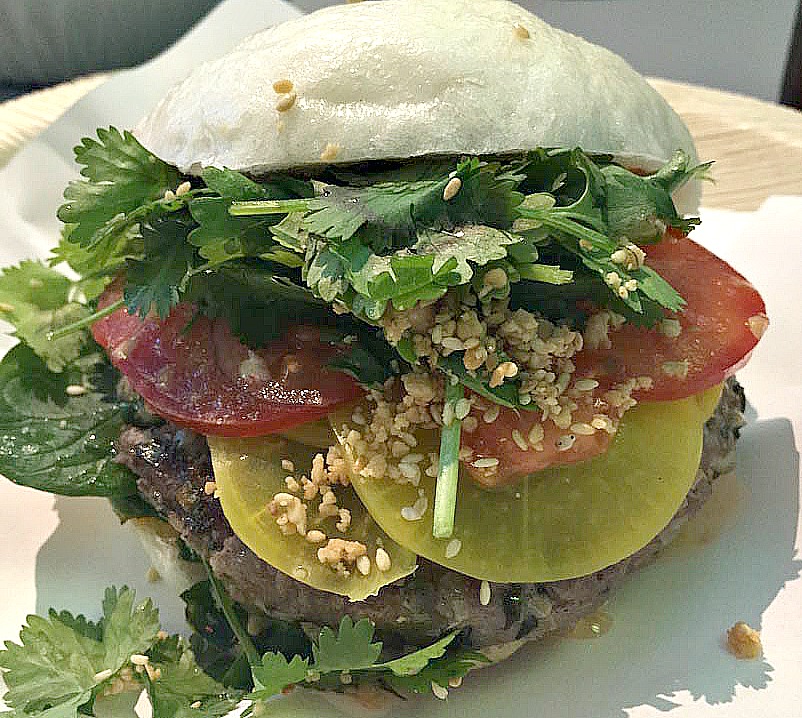 The Experience: The fantastic and well-known Bun Bao has taken a huge step further into the heart of bao burger lovers in Berlin. Normally, you would find them at street food markets around Berlin, but as of May 2nd they have opened a restaurant, which of course specializes in the art of making Bao Burgers. When at food markets, they serve the Bun Bao Original with pork belly, pickled radish, carrots, cilantro and roasted peanut, as well as the vegetarian Monk Bao with creamy lemongrass tofu, pickled radish, carrots, cilantro, roasted peanuts and hoisin sauce.
Burger Ordered: The Bangkok Soi
The Taste: At their newly opened restaurant, the menu has seven different Bao Burgers – featuring beef, pork, tuna, chicken, shrimp, tofu (vegetarian) and mung-bean (vegan). They offer normal fries, sweet potato fries and a green salad. I have to say that the sweet potato fries are the best I have ever had, especially when ordered with the wasabi mayo and chilli mayo. Bun Bao burgers are giving Berlin burger lovers a taste of Asian cuisine. The burgers names are a tour through Asia: the Bangkok Soi, Singapore Heat, and Tokyo Sunrise to name a few.
The Verdict: Bun Bao has taken all the best from the American burger and mixed it with all the exciting ingredients from Asia, like sauces, herbs, nuts, meats and the bao bun. These steamed buns are extremely well made, cloudy light, and not sticky while absorbing in the sauces.
Bun Bao is located at Kollwitzstraße 84, in Berlin, Germany.
You can read more of Simon's burger adventures around Berlin on his blog, Chessy Burger.