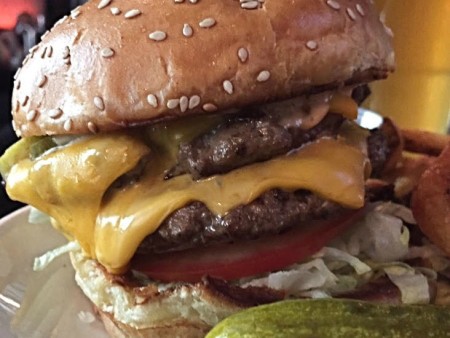 When you're in the heart of River North, you're in the middle of everything. Bull & Bear is a location that embraces the happy hour lifestyle. Their food is happy hour-friendly, quick finger food, with a great, moderately priced beer selection. It's is a bar/restaurant that has taps at the table, and it incorporates the popularity of the beer into said beer's prices, a la stocks. That's where the name comes from, and I love this idea.
A number of fellow foodies had put Bull & Bear photos out on Instagram, so I had to add it to the list. So I went on Derby Day, looking at all the pastels and funny hats. I was ready to feast.
The Burger: Classic Double Burger
The Taste: Bull & Bear created a burger that harkened back to the classic burger, hence the name. I felt as though I was eating something came off a coal burning grill. There were absolutely no frills about this burger, just flavor and minimal seasoning. Honestly, I wish I could elaborate more, but this was a very simple meal that will hit the spot if you just want a burger. If you're in a rush and need somewhere to go, Bull & Bear is solid.
The Verdict: I think you all can tell I am enamored with Bull & Bear, and it is a solid spot indeed. It's a place that I would go for a beer with a buddy, and maybe grab an appetizer.
Bull and Bear is located at 431 North Wells in Chicago, Illinois.
Sign up for Burger Weekly email updates!