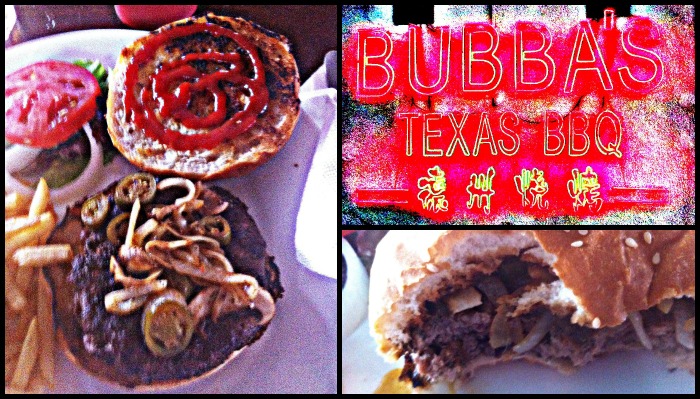 Burger Ordered: The Longhorn (sautéed onions, mushrooms, and jalapenos, plus a side of fries).
The Experience: Having already sampled the winner of City Weekend's Best Burger in Shanghai competition (New York Style Steak & Burger), Burgermeister Josh felt it necessary to give the runner up its due taste test. So he ventured out to Bubba's Texas-Style Bar-B-Que and Saloon. Bubba's, a household name amongst Shanghai expats, primarily for its annual chili competition (an outrageous conclave of Shanghai's amateur chili-making community), has three outposts in the city, none of which are particularly convenient. Josh decided to go to the original, out in the Hongqiao area of the city near the Shanghai Zoo and secondary airport.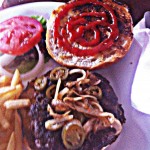 Bubba's is aptly named – its palpable saloon-ish feel is only diminished somewhat by the prevalence of college sports paraphernalia (primarily Texas schools, but not exclusively), which seem a bit out of place. Josh was amused to see the Golden Tee arcade game taking up a sizeable percentage of the dining area, which consisted of a relatively small number of high bar tables and stools.
The Taste: Operating with a when-in-Rome mentality, Burgermeister ordered the Longhorn Burger, which promised sautéed onions, mushrooms, and jalapeno peppers. When it arrived, however, Josh was disappointed to discover maybe 3 mushrooms and a small handful of onions and jalapenos. Before he had even sampled the Longhorn, Josh was fearing the worst – presentation counts when it comes to burgers, and this burger looked forlorn at best, as if it had been dressed simply as an afterthought.
Initial tasting confirmed Burgermeister Josh's fears. The patty, which contributed to the Longhorn's less-than-inspiring visual experience was bland and significantly overcooked (Josh asked for medium). The onions and mushrooms didn't add much, probably due to the fact that there just weren't enough of them to muster significant taste. Only the jalapenos, crisp and sharp, saved the Longhorn from being a Texas tragedy.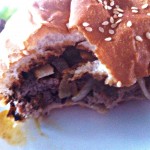 The side of fries which came with Burgermeister Josh's burger were essentially just seasoned McDonald's fries. In Josh's book, if you're going to serve shoestring fries, you're going to have to do a lot to make up for the low potato-to-fry ratio. There are many places that pass this test. Bubba's was not one of them. Burgermeister Josh is an orthodox Ketchup loyalist, but this time felt obligated to sample Bubba's barbecue sauce (again, when-in-Rome, right?). Surprisingly, after the disappointment of the burger and fries even when ketchup-covered, the barbecue sauce was light, tangy, and playfully citrus– a small saving grace to an otherwise frustrating burger experience.
The Verdict: Bubba's reputation as a popular expat hangout precedes itself here in Shanghai, and Burgermeister Josh's initial impression, affected perhaps by the schlep out to Hongqiao, was to wonder exactly whence the reputation derived.
Bubba's is located at 2262 Hongqiao Road in Shanghai, China.