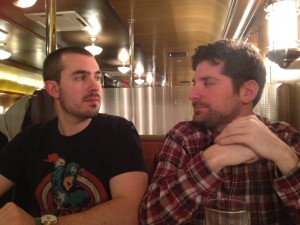 Showdown in Midtown
Burgers Ordered: Matt, Brad, Kate & Vanessa – Brooklyn Diner Cheeseburger Deluxe.
The Experience: Sometimes a Burger Adventure is hard to organize. Brad lives in Brooklyn and Matt lives up near the Bronx. So when Burger Adventures happen during the work week it is difficult for Brad to convince Matt to go to a burger joint in Brooklyn.
For a couple weeks Brad and Matt were trying in vain to coordinate a Burger Adventure with their Brooklyn burger buddies Vanessa and Kate. These two hold a special place in the Burgermeisters' hearts because they actually met them and became friends at a Burger Adventure. Well Matt was stubborn and wouldn't come to Brooklyn, so everyone split the difference and met at the Brooklyn Diner in Times Square.
Brooklyn Diner is a classier spot in the mold of higher scale delis like Katz's, Second Avenue and Carnegie. The tables aren't squished together as there is plenty of space in the restaurant. The Burgermeisters' waiter was a very nice gentleman who admitted that he spends most of his time at Brooklyn Diner as a bartender. The Burgermeisters thought he did a marvelous job changing things up.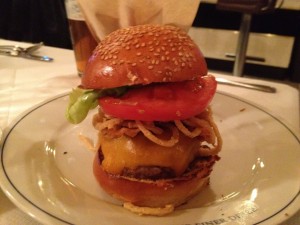 Stacked high and mighty
The Taste: Brooklyn Diner's burgers are stacked HIGH. The patty is thick and covered in fried onions, Vermont cheddar, lettuce and tomatoes. The ladies ordered their burgers medium, the men medium rare. All of the burgers were served as ordered.
Kate actually said that her burger was perfect in just about every way. She may have been having a thieves high however, as she took more lollipops (suckers for our Midwestern readers) than one is allowed to take from a diner. See the video below for more on that.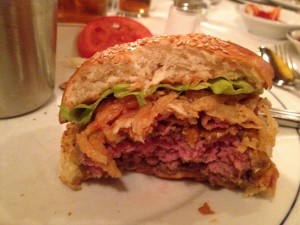 Perfect Proportions
Vanessa's comments were wildly inappropriate, so we can't post them word for word here. The cleaned up version is that she loved the french fries, enjoyed the onion rings on the burger, and found the patty to be delectably juicy.
Brad felt the exact same way, eating his burger incredibly fast but still enjoying the juicy mess he made of the whole thing. Matt said that the toppings made his burger special. He personally didn't think the patty was the end-all-be-all that the other three were touting it as, but he enjoyed his burger nonetheless.
The Verdict: Brooklyn Diner was a resounding success. Though the conceit of naming your restaurant Brooklyn Diner when it is in the very heart of Manhattan, an area that resembles the OPPOSITE of Brooklyn, is strange, it is undeniable that this place knows how to serve up an excellent burger. The price tag is a little high, but if you find yourself in Times Square there are worse ways to go about getting your burger fix.
Brooklyn Diner is located at 155 West 43rd Street on the corner of Broadway.
And this is what we looked like when Vanessa said she'd buy us all ice cream after dinner.