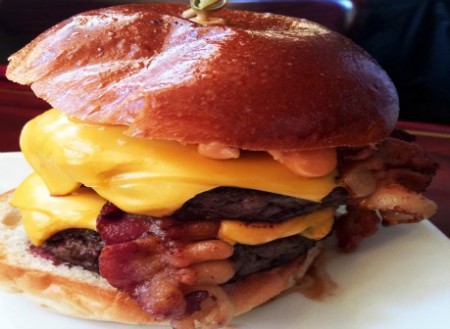 After having heard so many great things for so long about Bronx Burger House my girlfriend and I decided to trek all the way up to Riverdale, which is in the northwest portion of the Bronx literally just a few hundred feet away from Yonkers, and see what all the hoopla was about.
Burger Ordered: The Thomas Monster Burger.
The Taste: This was a MASSIVE burger with two 10oz. patties stacked on top of each other with a generous serving of American cheese and incredibly flavorful bacon and what they call "special sauce." This burger takes inspiration from McDonald's Big Mac and it is essentially a professionally made, restaurant style version of one and it is an absolute must try. I asked for it to be cooked medium rare and considering the size of the burger it might be the best choice for anyone who goes up against this bad boy. The meat was soft and juicy and flavor was popping out at every bite. The bun was delicious as well. This whole burger was seriously incredible. Can't wait to come back and try all of the burgers on the menu (which I'm seriously going to do).
The Verdict: Bronx Burger House is a popular neighborhood spot that needs to get way, way more attention from non-locals. Yes, it is quite a long ways away, but if you're a serious burgerphile and you commit to traveling a long distance for great burgers you will not be disappointed. At all.
Bronx Burger House is located at 5816 Mosholu Avenue in the Bronx, New York.
Get more Bronx burger knowledge at The Hungry Dominican.
Sign up for Burger Weekly email updates!