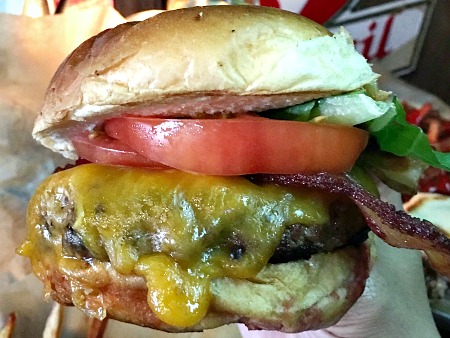 I had been recommended the Bronx Alehouse for quite sometime now by friends and family and it was time for me to finally head over and see why everyone kept telling me it was a spot to check out. And as soon as I walked in I understood why they were pressing me to visit. The decor, the bar, the barstool tables along with what I consider to be a perfect size for an intimate neighborhood pub-like setting were all spot on. The place has a cool vibe the moment you step in.
Burger Ordered: Bacon Cheddar Burger & Lamb Burger
The Bacon Cheddar Burger is a hearty meal that evokes the perfect "classic" bacon burger taste. A thick 10 oz. patty is lobbed in with crispy lettuce, a big juicy ripe slice of tomato, house-smoked bacon that had a perfect mix of fat and crispiness and incredible-tasting cheddar cheese all sandwiched in between a brioche bun and it's a winner all the way around. Every bite had such wonderful flavor to it that it's pretty much unnecessary to add any accoutrements. Forget the ketchup or anything else you might tend to dress up your burger with. Let all the ingredients at play speak for themselves. Don't mess with perfection.
To put it succinctly, I was blown away by the Lamb Burger. It comes in a perfectly sized 6oz patty that is simply bursting with flavor. The meat was decadently soft and simply unreal. It's accompanied with rose tomato, a mint honey paste that was mind-bendingly delicious and fresh goat cheese all sandwiched in between pita bread. It evokes Middle Eastern flavors but is also very much a traditional classic burger. A memorable foodie experience to say the least. There is simply no way anyone could be disappointed with this selection.
The Verdict: Bronx Alehouse is an awesome place to hang with friends and have a great time. This place has great food and an expansive drink selection. It's also located in a great neighborhood. It is definitely the spot to be at.
Bronx Alehouse is located at West 238th Street in the Bronx, New York.
Sign up for Burger Weekly email updates!