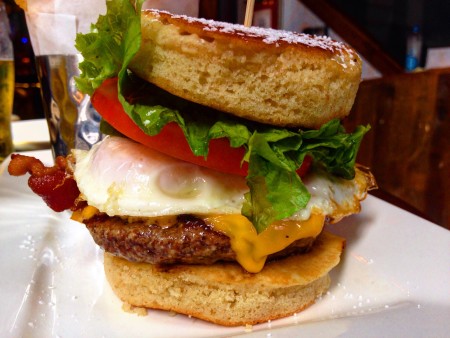 Shortly after I started Burger Weekly, I took a job in the Financial District… a neighborhood that at the time had no good burgers. Alright, there were a couple good burger spots, but I worked there for three years so that dried up pretty quickly. But in the last few years, new restaurants have opened and brought NYC's burger crazy to FiDi. One such restaurant is Broadstone Bar & Kitchen, run by the good folks behind Pig N' Whistle and Foxy John's. They have a few burgers on the menu, including a ridiculous pancake burger. I figured that if this Frankenfood burger was tasty, the rest would be a no-brainer. 
Burger Ordered: Pancake Burger
The Taste: Served only at brunch ,the Pancake Burger is a topped with American cheese, syrup, Applewood smoked bacon and fried egg served between two pancakes. If there was actually syrup on the burger, I couldn't taste it, but I think that's for the best. The patty was delicious, cooked perfectly medium rare. The cheese and bacon were both excellent, and the egg was nice and runny. Like any reasonable human, I was worried that the pancake wouldn't suffice for a bun. I was pleasantly surprised as the sweet, powdered pancake juxtaposed really nicely against the savory patty. The only drawback was its volume, making it difficult to bite without snake-ing my jaw. But the burger was tasty enough that I got over my embarrassment of eating most of it with a fork and knife.
The Verdict: It's officially safe for me to recommend Broadstone's burgers. You probably can't go wrong ordering one of their more traditional meals, but the Pancake Burger is a nice bit of fun as well.
Broadstone Bar & Kitchen is located at 88 Broad Street in Manhattan, New York.
Sign up for Burger Weekly email updates!