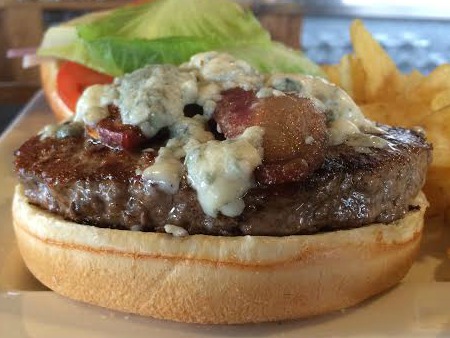 Craft beer seems to be all the rage in northern Michigan, and the Bridge Street Tap Room in Charlevoix is tapping into that craze, labeling themselves a "craft beer haven." They've got 32 Michigan craft beers on tap, along with an extensive wine and spirits menu. I've come to learn that where there's beer, there's burgers, so when I found myself in the neighborhood with some time to kill I had to investigate.
Burger Ordered: Black and Bleu Burger
The Taste: Bridge Street Tap Room uses locally sourced ingredients and Michigan made products, and it's easy to tell that everything was fresh. The burger is a ½ pound of blackened C.A.B. burger, topped with bacon, bleu cheese, and LTO. I sincerely enjoyed every bite of this burger. Bleu cheese has a strong flavor, so I appreciate when a burger doesn't distract from it with too many other toppings. The bacon was crisp and tasty, and the angus beef was cooked a perfect medium rare. Bridge Street does everything right with their burgers, and I'll happily go back and try the other burger on their menu, a simple House Burger.
The Verdict: The waiter culture here was great, the burger was outstanding, and the beer she paired up for me was the right choice. I enjoyed everything about my visit to the Bridge Street Tap Room and have no reservations about giving it a hearty recommendation.
Bridge Street Tap Room is located at 202 Bridge Street in Charlevoix, Michigan.
Sign up for Burger Weekly email updates!