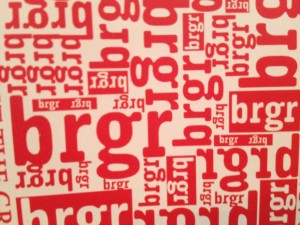 National Burger Month Begins
Burgers Ordered: Simon – The Down on the Farm brgr; Matt – The Fresh Morning brgr; Brad – The Rainforest brgr.
The Experience: The Burgermeisters continue their foray into fast casual burgers with brgr this week…
The Taste: Brad and Matt both had the same immediate reaction when taking the first bite out of their burgers: mild disappointment.  Though juicy and cooked properly, the patties had no distinguishable flavor to speak of.  As always, the egg on Matt's burger did nothing for him, leaving Brad to wonder why he keeps ordering fried egg on his burger when it's an option.  It took both Burgermeisters until their last bite to finally find the flavor in their burgers, as the sauces used on both had run to one side.  This is because brgr serves their burgers standing on their side, a decision the Burgermeisters have decided is flawed.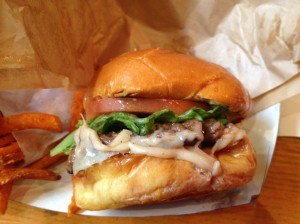 The Rainforest
Simon was more forgiving of his burger, enjoying the horseradish sauce in particular but noting that, like Brad and Matt, his sauces too mostly ran to one side of the burger. Simon's cheerful attitude might be attributed to the fact that he ordered a black and white milkshake to accompany his meal, one that he said just might be one of the best he's ever had (as advertised).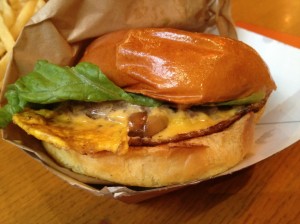 The Fresh Morning
As per tradition, the Burgermeisters ordered as much of a variety of sides as possible.  The regular fries and sweet potato fries were nothing to write home about, but Brad and Simon both raved over the Onion Hay.  Greasy and delicious, brgr's Hay was far more memorable than their burgers.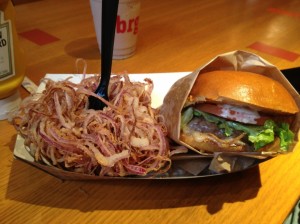 The Down on the Farm
 The Verdict: The burgers are strictly quick lunch material, not worth making a special trip.  However, the Onion Hay and signature milkshakes (go for the black and white over the more advertised blueberry pomegranate) make paying a visit to brgr worthwhile.
brgr is located at 287 Seventh Avenue between 26th and 27th Street.