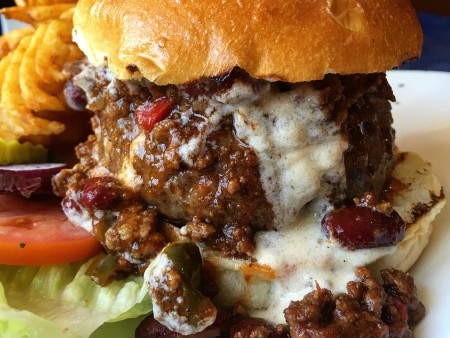 I had heard that Brewski's was a super fun sports bar to visit on any given day. And it seems like it's pretty true. It has a very casual, laid back old school vibe. As soon as you walk in you'll notice massively large television screens playing all sorts of sports at the bar. There's a dedicated dining area and a space out in the back where you can continue the party. The staff is awesome as well. But it's the food I wasn't prepared for. It's not just passable bar food. It's fantastic food.
Burger Ordered: Chili Cheeseburger
The Taste: The first thing I noticed was the plating. The way the burger was served looked amazing. It's brought to you open faced and the chili is just dripping off of the top of the patty. I ordered it medium rare and it was absolutely perfect. It was a thick and delicious 10-ounce beef patty that worked beautifully with the spiciness and sweetness of the chili. The bun was soft and the waffle fries I ordered along with it were incredibly tasty. I was seriously impressed with the menu items I ordered here. And this burger was a true standout. This might be a great sports bar but it's also a great restaurant.
The Verdict: I can see how it would be easy for anyone to dismiss this place as just any other random sports bar. It certainly doesn't scream anything other than that from the outside. But once you walk in you'll be doing yourself all the favors in the world if you order from their menu. If you're a sports fan or a foodie give this place a look.
Brewski's Bar & Grill is located at 3718 East Tremont in Bronx, New York.
Sign up for Burger Weekly email updates!