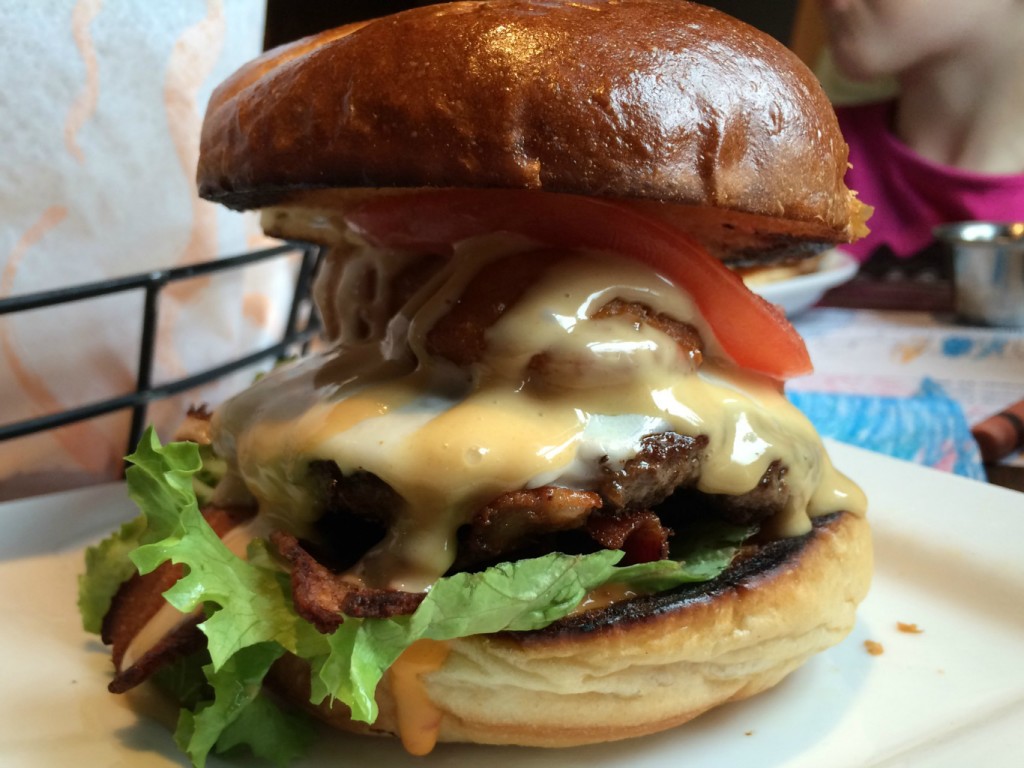 The Experience: Breakfast & Burger Express is a Kalkaska institution, having been in business since November of 1990. It has stayed in the same family, and not much has changed – they even operate under original hours, closing by 3 pm each day. It's definitely an anchor of the downtown area, which has seen a lot of change in the 25-plus years B&B Express has been open.
Burger Ordered: B & B Bad Boy
The Taste: I had to get the B & B Bad Boy, since it says right there on the menu that it was voted best burger. Only an idiot would try something else on their first visit. The burgers at B & B Express are made with their own "Signature Ground Burger" unique to them, fresh ground and individually hand pattied. Then the Bad Boy is topped with lettuce, bacon, boom boom sauce, Swiss cheese, their special sauce, tomato, and an onion ring. Everything came together in perfect harmony, and the two kinds of sauces – boom boom and special – really made this burger stand out. To be honest, I have no idea what those two sauces even are, but I don't much care, since they were so good. The burger also came on its own plate, with the delicious fries in a separate basket, which was a somewhat unique touch that didn't go unnoticed.
The Verdict: B&B Express seems like the kind of place where everybody knows your name, and if I lived any closer they might get to know my name too. This is hometown restaurant cooking at its finest.
Breakfast & Burger Express is located at 203 S Cedar Street in Kalkaska, Michigan.
Sign up for Burger Weekly email updates!