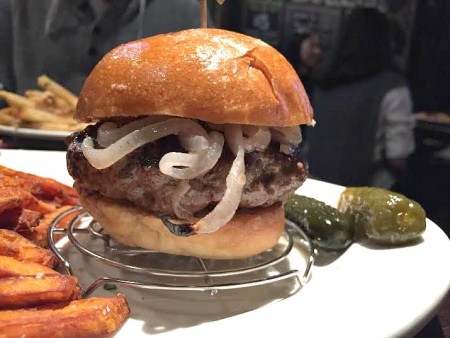 I think it is smart marketing when restaurants flaunt their menu items that have been lauded in the press. However, I get annoyed when they do so without attributing where the accolades came from. Sure, it's something of a New York City tradition for a restaurant to claim that it has the, "best coffee in the city," for example, but at the end of the day that's just a misleading claim that might not actually come from any real source. So when I walked by Brazen Fox and saw painted on their facade that they are the best burger in New York, I wanted to know who said so.
After much research online, I found no such claim, but I did find Brazen Fox listed on an Eater Heatmap of essetial dry-aged burgers in the city. They also have a cheaper, standard-fare burger, but I wanted to sample the praised meal. So, after sitting through Spotlight at the theater across the street, with thoughts of pedophile priests running through my mind, I went for it. Burger Ordered: The Bone Marrow Burger
The Taste: After being burned by false "best burger" claims before, I was pleasantly surprised by the Brazen Fox Bone Marrow Burger. Rumored to be based on Minetta Tavern's Black Label Burger, this burger was remarkably buttery and rich. The bone marrow had fantastic flavor, and had me wishing that there was just a bit more of it on the burger. More importantly, even though my burger was a little overcooked, the meat was still juicy and the marrow made it so that the patty's temperature didn't get my goat.
The Verdict: I'm glad that I gave the Brazen Fox a try, and commend them for putting out a high volume of quality burgers in a very busy part of town.
Brazen Fox is located at 106 3rd Avenue in Manhattan, New York.
Sign up for Burger Weekly email updates!