A Big Burger Rebound |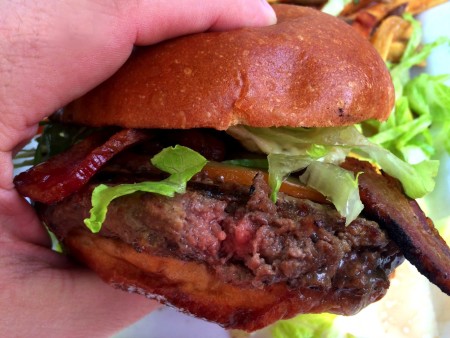 I've lived in Boyne City for less than five years, and in that time the location at 220 South Lake Street has now been three different restaurants. It's a solid location right on the corner in the SoBo district, and there's a really cool art gallery and concert hall right across the street. So while I can't say what the problems were with former inhabitants The Thirsty Goat, or Northern Table, especially when Northern Table made a great burger that I've missed. Thankfully, the ownership team of the Boyne City Tap Room also serves up a mean burger at Bridge Street Tap Room in Charlevoix, so I was eager to see what they had up their sleeves for Boyne City.
Burger Ordered: Fried Egg & Cheddar Burger
The Taste: I've had this burger twice now, and while the first time was a little disappointing, they rebounded in a big way on the second attempt. Fried egg is one of my favorite burger toppings, and pairing it with cheddar is a no-brainer. I even threw some bacon on there for fun, and LTO of course came with as well. The burger was cooked a nice medium rare, and the topping coalesced into a tasty result. My only complaint is with the shredded lettuce. It never works and makes more of a mess than anything. A nice piece of leaf lettuce will do just fine. The burger came with a French fry medley – a mixture of standard fries and sweet potato fries and with a nice aioli, and both were great.
The Verdict: I was bummed when Northern Table shut down, and I do miss that burger, but Boyne City Tap Room will do a fine job filling that hole in my heart.
Boyne City Tap Room is located at 220 South Lake Street in Boyne City, Michigan.
Sign up for Burger Weekly email updates!