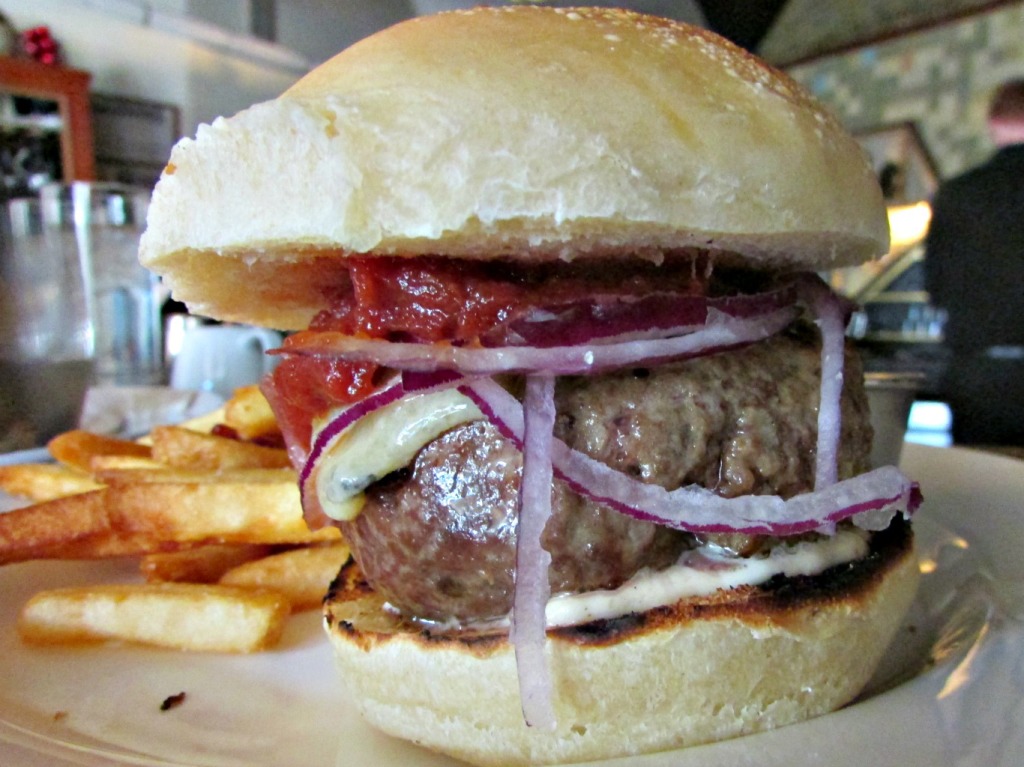 The Experience: In 2015, I am trying to consume fewer intoxicating substances. I learned last Saturday however that my learning curve is steep. I woke up with a hell of a hangover and a deep need for morning-after food. Luckily for me, my buddy Ilya was feeling exactly the same way. I remembered hearing that Bounty had great food and that it was a good place to find a little hair of the dog, so we ventured north to Greenpoint Avenue and pulled up a couple of stools at the bar.
Burger Ordered: The Burger
The Taste: The standout element of the burger at Bounty is the house-made bun, pillowy and soft, with a nicely toasted top. It was a pure delight to have each bite begin with this bun. The tomato jam and red onion complimented each other well, and the mayo added just the right about of savory flavor to balance out those sweeter toppings. The patty was expertly grilled, and served a perfect hue of medium rare pink. And though the burger felt comforting as my hangover began to subside, I found a strong need to put my pain to bed and paired my meal with a sip of Famous Grouse. Sometimes you just need your medicine. So much for consuming less in 2015.
The Verdict: Locals know how good the burger at Bounty is, and now you all do too. Make this Greenpoint Avenue restaurant a weekend destination ASAP.
The Bounty is located at 131 Greenpoint Avenue in Brooklyn, New York.