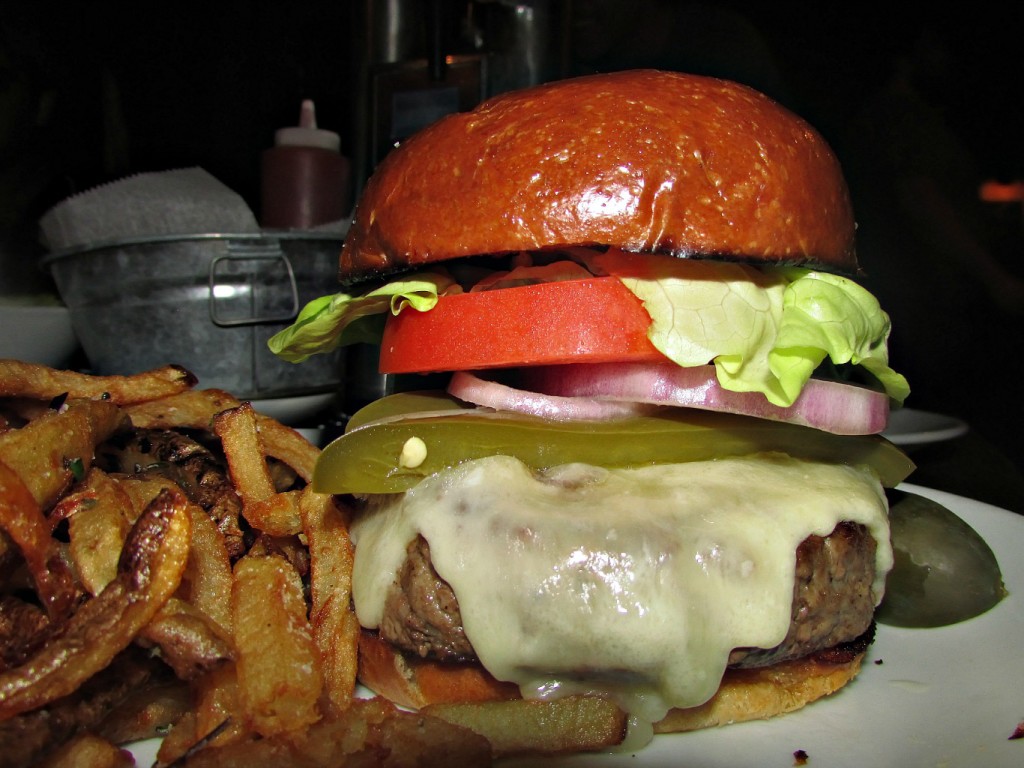 The Experience: I am beginning to feel that all good things, no matter their place of origin, have to come to New York City to become a real and true "thing." Pizza came from Italy, but New York City is home to the most world renowned slices and pies. According to White Castle, the hamburger was invented in Germany before becoming world famous thanks to the New York Tribune. And even though it only came from as far away as Texas, the pickleback shot was popularized less than a decade ago in Brooklyn, New York.
Boulton & Watt, the East Village gastropub stylized after the industrial revolution (and named for its steam engine pioneers), may not have much in the way of pizza, but it's doing its part to help in the New York City popularization of both burgers and picklebacks. But it is where Boulton & Watt's burger and pickle strengths converge that I was most interested in after dining there.
Burger Ordered: The Burger

The Taste: Boulton's burger is a build-your-own situation. It is a Pat LaFrieda on top of a seriously delicious brioche bun, topped with caramelized onions, cheddar, bleu cheese, Gruyere, or pickled jalapeños for a buck-fifty each, and bacon, mushrooms, or a fried egg for two bucks a piece. I opted for cheddar and jalapeños. The juicy patty and perfectly toasted bun caught my attention right away, but it was when the sweet and spicy jalapeños caught me with a serious kick that I decided that this burger is seriously noteworthy.
I was joined by my friends from Thirsty NYC, and together we shared a second burger, which let me see just how beautiful Boulton's bacon could be. We also downed pineapple and beet picklebacks, which had me smiling and thinking back to my trip to Odessa.
The Verdict: I was getting a bit burnt out on brioche buns, but Boulton & Watt made me a fan again with their killer burger, while throwing in a bonus dose of pickled bliss.
Boulton & Watt is located at 5 Avenue A in Manhattan, New York.