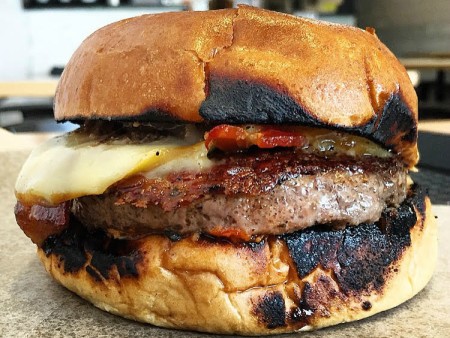 Have you ever watched Diners, Drive-Ins and Dives? You know, the show with Guy Fieri. Well he stopped into bopNgrill a while back and really put the place on the map. Now, bopNgrill has more than one location and I visited the one on Belmont avenue. I am unsure if this is the exact location Fieri went to but man, they served a great burger.
Belmont is in the heart of Lake View and is very close to Wrigley field. A typical person one might find in this area is around 24 years old, is a hipster, or dresses very casually on the weekends. The night scene is bonkers due to the overflow of Cubs fans. I hear every now again that they have good restaurants in Lake View, but it took watching an old episode of "Triple D" to decide to give bopgrill give it a try.
Burger Ordered: Umami Burger
The Taste: This Japanese-style burger has diced mushrooms mixed with a light truffle. It's also topped with bacon, sun-dried tomato confit, togarashi mayo, and smoked gouda. The first bite of this burger was intense with flavor. I loved it, saying, "wow," out loud. I haven't had too many burgers that elicit the same first reaction. To top it all off, bopNgrill grills their buns to perfection. It was by far the best bun I have had.
When you see bopNgrill from the outside, it looks like a fast food burger joint. While they do serve the burgers quickly, with that assessment one would also assume the burgers are not that good. Do not make that assumption with bopNgrill. Their burgers are awesome. I cannot wait to go back and try another.
The Verdict: If you live in Chicago, this is an absolute must-try restaurant. Please go. stop reading this and go now.
bopNgrill is located at 921 West Belmont Avenue in Chicago, Illinois.
Sign up for Burger Weekly email updates!