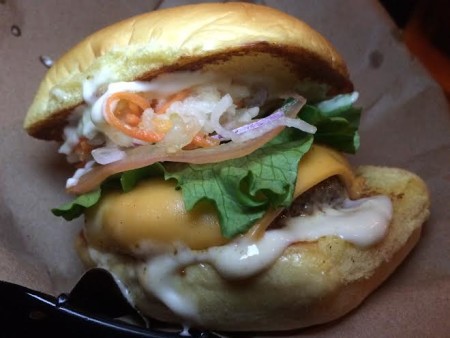 When Boilermaker opened, I immediately started hearing buzz about their dope burgers and wings. It took me a few months, but I finally made it down to the bar/restaurant to meet a friend and lament the end of his relationship. He got the burger, and I got wings as I'd eaten too many burgers that week to justify another. I loved the wings, and he said that the burger was good, but no more interesting than a Shake Shack burger. And so as much as I dig Shake Shack, it was with some reservation that I returned to Boilermaker for a full-blown burger review a couple weeks ago. That reservation was unwarranted, as it turns out.
Burger Ordered: The Single Burger
The Taste: The Single Burger costs only $8. It was conceived by Chef Miguel Trinidad of Jeepney fame, and is topped with the same pickled atchara as the Jeepney Burger. Boys and girls, between those veggies and the fig aioli that tops the burger, this sucker works. The potato bun gives it that casual dining sponginess that I've come to love, and did I mention that it's only $8? Oh, I did? Well, it bears repeating. The fries are also fantastic, and come with a host of sauces for dipping. I recommend that you ask for extra fig aioli, because as much as truffle mayo persists as a food trend, a fig dip is wholly unique to Boilermaker, in my experience.
The Verdict: In a city where the average price for a burger is skyrocketing so fast that it actually makes me depressed, Boilermaker is serving a great burger for the price of two loads of laundry. Put on your dirty clothes and check it out.
Boilermaker is located at 13 1st Avenue in Manhattan, New York.
Sign up for Burger Weekly email updates!