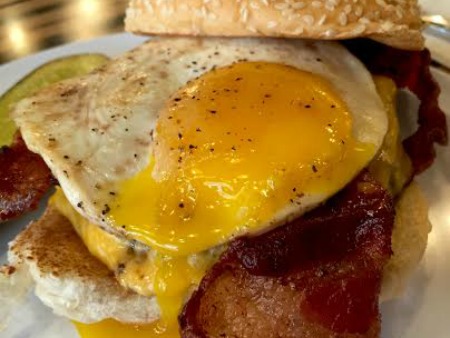 I think it's safe to say we all know who Bobby Flay is, but for those of you who live under a rock – he is a Celebrity chef, restaurateur, and TV personality. Bobby is the owner of Bobby's Burger Palace and has 19 locations across 11 states. I visited his Arundel Mills location, located in the Maryland Live Casino. As with most casino restaurants, you will find an increase in price here. I paid $11.50 but found that at the Towson location, the very same burger is about $3 less.
It's a rather large space, filled with family style tables. I went around 12 PM on a Friday and it wasn't too busy, but a line of about 5 people formed right behind me as soon as I walked in – I'd like to think I brought the crowd! The staff was nice and friendly, although they couldn't get over the fact that I asked for the top bun on the side so I could take a picture for my review. I got my burger about 10 minutes after I sat down and demolished it in about 45 seconds. I probably could have finished it in 30, but I was trying to be polite to my lunch date.
Burger Ordered: Brunch – medium rare, certified angus beef
The Taste: This burger contains a fried egg, smoked bacon, and American cheese. You have your choice of meat: certified angus beef, ground turkey, or a whole chicken breast. I went against the Chik fil A Gods, who are always telling me to "Eat More Chiken", and ordered the beef. It was perfectly tender and pink on the inside. The egg was cooked to perfection and just runny enough to give me a little #yolkporn. You can also "crunchify" your burger by adding potato chips (for free).
The Verdict: Sometimes celebrity owned restaurants can lack authenticity and lose quality. At Bobby's Burger Palace, that is surely NOT the case. I enjoyed every bite of my burger, and am having major regrets of opting out of the crunchified option! Guess that means I need to go back….soon.
Bobby recently went on a burger tour where he visited quite a few of his locations, flipping burgers for his fans. I think there's something to say about someone like Bobby, who not only visits several of his restaurants to check in on things, but is also cooking in the kitchen!
Bobby's Burger Palace is located at 7002 Arundel Mills Circle in Hanover, Maryland.
Want to check out more of Jordan's Baltimore eats? Follow her on Instagram and Facebook!
Sign up for Burger Weekly email updates!